Meet the 2022 Top Food Chain Pros to Know
by Staff, on Feb 26, 2022 4:22:37 PM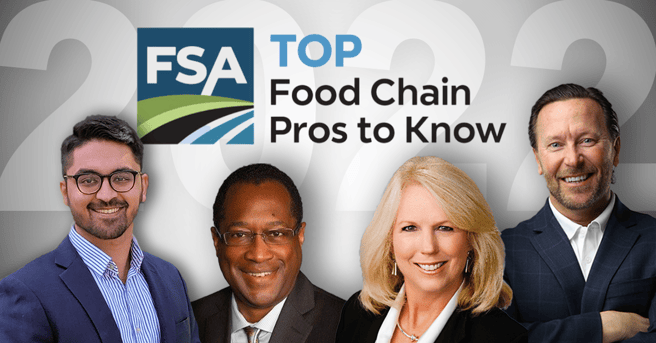 Whether the COVID-19 pandemic gave supply chain professionals greater opportunities to distinguish themselves or the challenging situation simply spurred those in the industry to recognize their colleagues, Food Chain Digest received a significant number of quality nominations for this new recognition program.
The following individuals were selected on the basis of their food supply chain expertise and career accomplishments in the past 12-18 months. They represent shippers and providers, and various demographics, levels of expertise, and roles and responsibilities. As the following profiles show, these remarkable professionals are making great strides in their career while generating value in the supply chains of their employers, customers, and key stakeholders.
Greg Ackner

Vice President
Sales, Capital
Logistics
Ackner comes with 25 years experience in the brokerage and trucking industry, with a heavy focus on the temperature controlled, frozen food marketplace. Ackner has grown the company by 200 percent year-over-year and has single-handed on-boarded the major food distributors and retailers in company's customer portfolio.
Jim Becker

CEO and Founder, Becker Logistics
Becker founded this major 3PL within the food shipping industry in 1997, and through his leadership enabled 130 percent growth through the turbulence of the last two years. In fact, he's led the company to achieve $100 million just last year through strong organic growth and a significant recent acquisition. "Jim makes sure every food shipment is handled with care and the path from farm to fork is as transparent and efficient as it can be," says one associate.
Joe Amici

Director of Consolidation, Echo Global Logistics
Amici leads Echo's Refrigerated Consolidation division, which moves LTL orders from shipper to consignee in a hub-less model. Amici's leadership continues to scale the refrigerated consolidation program, creating more efficiencies in day-to-day operations which lead to higher trailer utilization, products spending less time on a trailer, fewer out-of-route miles, and minimal cross-docking or points.
Oliver Bowe

Senior Director, Logistics, Campbell Soup Company
With more than 25 years experience in logistics, operations, and project management, Bowe currently is responsible in leading logistics (including warehousing, transportation and customer support) for Campbell's Snack Food business. He has a proven track record of increasing profitability and achieving breakthrough customer service performance.
Jill Clifford

President, FreightPlus
Using 30-plus years experience, Clifford drives innovative and solutions for food customers such as King Arthur Baking, Cumberland Packing, Cucina Antica, Chex Finer Foods, and Biena Snacks. Her ability to form collaborative relationships with carriers and shippers has been instrumental in the growth of FreightPlus, which was named in 20221 as one of Inc. 5000 Fastest-Growing Private Companies.
Don Durm

Vice President, Customer Solutions, PLM Fleet
With 26 years in the industry, Durm is an internationally recognized industry authority on cold chain regulatory compliance and supply chain technology. He has worked as a tireless advocate with government and industry to navigate FSMA rules and bring safe foods to the consumer. He was consulted by the Trump Administration's "Operation Warp Speed" on the distribution of COVID- 19 vaccines in the U.S.
Chuck Everett

Senior Director, Business Development, Red Classic
A 40-plus year veteran in transportation, Everett has held numerous roles in operations, sales, and dedicated transportation throughout his career. While many customers faced strains to their supply chain and capacity during the pandemic, Red Classic has been awarded several valuable dedicated transportation contracts through Everett's efforts that have benefited Red Classic and removed hindrances for customers.
Mary Kearney

Director of Business Development & Special Projects, Tucker Freight Lines
Kearney started her transportation career in 1984 with Continental Grain Co., then moved into sales and pricing roles with Hirschbach, and today is Director of Business Development for Tucker Freight Lines. She has been active in FSA for more than eight years and currently is the Motor Carrier Advisor for the association. In 2019 she was the Conference Co-Chair.
Marshall Kipp

President & CEO, ATS (Advanced Transportation Services)
Kipp's leadership has evolved a one-truck operations to exceed $1.3 billion in sales since ATS began in 1984. Over the past 18 months capacity demands during the COVID pandemic have skyrocketed and ATS has increased its capacity. "He develops innovation, leads by example, and maintains a positive company culture that drives success," says one associate at ATS.
Kristy Knichel

Chief Executive Officer, Knichel Logistics
This fast-growing transportation company is slated to reach more than $100 million in revenue in 2022 via Knichel's ability to create and execute dynamic growth strategies year-over-year. Knichel has been actively involved with the Transportation Intermediaries Association to advocate for positive policy changes this past year with the introduction of legislation to allow brokers into the C-TPAT program.
Rob LaFollette

Vice President, Sales, Transfix
Through 30 years industry experience, LaFollette leads tactical efforts to ensure Transfix continuously provides innovative, consultative solutions needed by food shippers. He has held leadership roles with XPO Logistics, Swift Transportation and U.S. Xpress. "Rob has made significant strides in deepening relationships with over 150 top food shippers," says one associate. "His focus on diving deep into identifying areas of opportunity for shippers is what makes Rob stand out."
Russell Leo

CTB, Chief Executive Officer, RLS Logistics
As one of the largest family-owned cold chain 3PLs in the Northeast, Leo is expanding this business nationally through a unique acquisition strategy. He has 26 years experience in temperature controlled logistics, transportation and distribution finance, and recently served on the Board of Directors for Transportation Intermediaries Association (TIA).
Jess Meloche

Enterprise Account Manager, BM2 Freight Services
Meloche works primarily with largest food and beverage customers of BM2 Freight. He single-handedly is responsible for managing nearly 20,000 shipments during his 10-year career at this transportation solutions-based freight brokerage firm. He holds a Master's degree from Thomas More College and a Bachelor's degree from University of Kentucky.
Brian Pharaoh

National Sales Executive, Big M Transportation
As a certified multi-functional logistician and Lean Six Sigma Master Black Belt, Pharaoh manages national sales, overseeing business development growth of enterprise accounts for this freight transportation and logistics company. He produced and managed food chain engineering design and solution projects in grocery fulfillment, streamlining operational effectiveness, producing up to nine-figure cost saves benefits.
Mike Regan

Chief of Relationship Development and Strategic Initiatives, TranzAct
Regan has been helping food shippers with freight audit and payment, reporting and TMS applications, rate negotiation and contract development since co-founding TranzAct in 1984. He has spoken at many FSA events over the years and has been a strong advocate on issues important to food shippers through leadership roles with such groups as CSCMP, NIT League, and NASSTRAC.
Nick Reasoner

Chief Executive Officer, TransLoop
Reasoner is a strategic leader who has scaled his company to 50-plus team members and five locations generating more than $100 million in three years. He has implemented a real-time shipment visibility platform, nationwide drop-trailer programs to address warehouse shortage problems for shippers, and programs to educate college students on the importance of U.S. supply chains.
Mike Rieck

Director of Sales, Gateway Logistics
Rieck has 17 years of experience in the 3PL industry, with a majority of those focused on food and beverage supply chain management. He has helped to educate and mentor associates at Gateway on the importance of refrigerated freight which has in turn enabled the company to grow its refrigerated customer based by 35 percent.
Debra Sanford

Vice President, Sales & Pricing, Radiant Clipper
With 37 years experience at Radiant Clipper, Sanford is a pioneer for women in leadership roles. She's responsible for sales and pricing for the company's refrigerated trailer fleet. Throughout the pandemic, she has successfully navigated through supply chain challenges and collaborates closely with railroads to get produce and other necessary products to end-consumers.
Lisa Schommer

Divisional Vice President, Logistics, Bar-S Foods Company
Schommer is an accomplished executive with more than 20 years experience in supply chain, logistics, and operations within high-profile consumer products companies. She has a demonstrated record of leading teams and achieving measurable results, with particular expertise in strategic planning, project management, innovation and implementation. She has held previous positions with QTrade Teas and Herbs, China Mist Brands, Inventure Foods, and The Dial Corp.
Kam Sihota

CEO and Founder, Kam-Way Transportation
A self-taught entrepreneur, Sihota comes from a humble background who grew up in his family's farming/trucking business. Lessons learned there led him to build this successful East Indian-owned freight brokerage and asset-based network that serves the U.S. and Canadian supply chain retail and grocery markets. Kam-Way is deeply rooted in several community programs that give back.
Armon Shahpar, MSSCM

Commercial Lead/ Refrigerated Program, Uber Freight
Shahpar leads the company's commercial reefer program and acts as a liaison with pricing, operations, and carrier team as a voice for food shippers. Part of his role is to provide facility insights to shippers that utilize reliable, actionable data and supply chain analytics to help companies make data-driven decisions, tailor their facility operations, and improve business performance.
Ron Seifried

Senior Operations Manager of Transportation, Land O' Lakes
With more than 20 years experience in transportation and logistics, Seifried is an experience manufacturing executive with a demonstrated history of working in the food production industry. Seifried currently is responsible for day-to-day operations of the Transportation Planning Group at Land O' Lakes, one of America's premier agribusiness and food companies.
Josh Silcox

Director of National Supply Chain Management, ALDI USA
Silcox has more than 20 years experience in supply chain management, logistics, procurement, operations, network management and asset optimization. Currently he is leading an end-to-end supply chain transformation and build-out with ALDI. He previously held logistics positions with SpartanNash, U.S. Foods, Sysco, Ryder Supply Chain Solutions, and Quikrete.
Chris Smith

President Grocery, McLane Company
Chris Smith is President of McLane Grocer, a $33 billion business unit providing supply chain solutions to 70,000-plus retailer locations. Previously he was Chief Supply Chain Officer for Walgreens Boots Alliance where he oversaw supply chain functions for 9,200 U.S. based Walgreens stores through 16 DCs and 9,000 warehouse employees.
Madhav Srinath

Managing Director, NexusLeap
Srinath founded NexusLeap to specifically solve food chain problems and has grown over 4X in revenue year-over-year. After starting his career at Manhattan Associates, he has since served on Microsoft's Cloud AI advisory board, was the VP of Product for a Virtual Reality startup, and has even guest lectured at UT Austin. He is on a mission to equip supply chain leaders with simple data products built with cutting-edge tech.
Jamie Teets

Chief Executive Officer, Transportation One
Teets founded the company in 2010 with aspirations to build a well-respected transportation brokerage supported by cutting-edge, proprietary technology. Through his vision and leadership, the self-financed company has experienced significant year-over-year growth and has been named on the Inc. 5000 Fastest Growing Business list seven times.
Len Tyrrell

Executive Vice President, Edge Logistics
Tyrrell has 20-plus years experience in supply chain management, with special expertise in negotiation, talent management, customer service, operations and freight management for customers of Edge Logistics, a freight solutions company. Tyrrell led his team to deploy initiatives that ultimately resulted in Edge to be named 2021 Carrier of the Year by Niagara Bottling.
Craig Weiss

Senior Vice President & Chief Transformation Officer, Conagra Brands
Weiss is an experienced supply chain leader at Conagra Brands with a demonstrated history of working in the food production industry. Currently he's in a leadership role that supports Conagra's Planning and Logistics teams. He's skilled in business process, food and beverage operations management and supply chain optimization.
Michael Wohlwend

Managing Principal, Alpine Supply Chain Solutions
With 30-plus years in strategic planning, warehousing, manufacturing, and supply chain systems, Wohlwend is a true advocate of the supply chain industry. He has authored many articles for trade publications, presented at industry events, served on the board of directors for the Warehouse Education Research Council (WERC), and mentors through an internship program.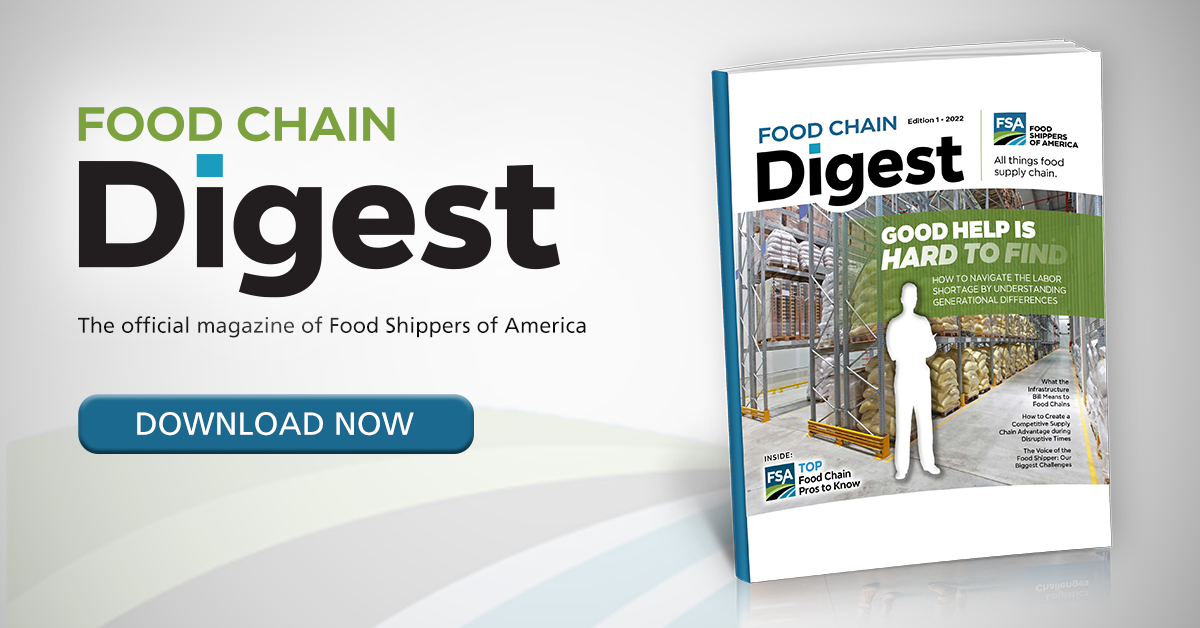 This article was originally featured in Edition 1 of 2022 of Food Chain Digest magazine. Download the digital version today!