Biden Signs Law to Lower Shipping Costs
by Staff, on Jun 21, 2022 11:00:32 AM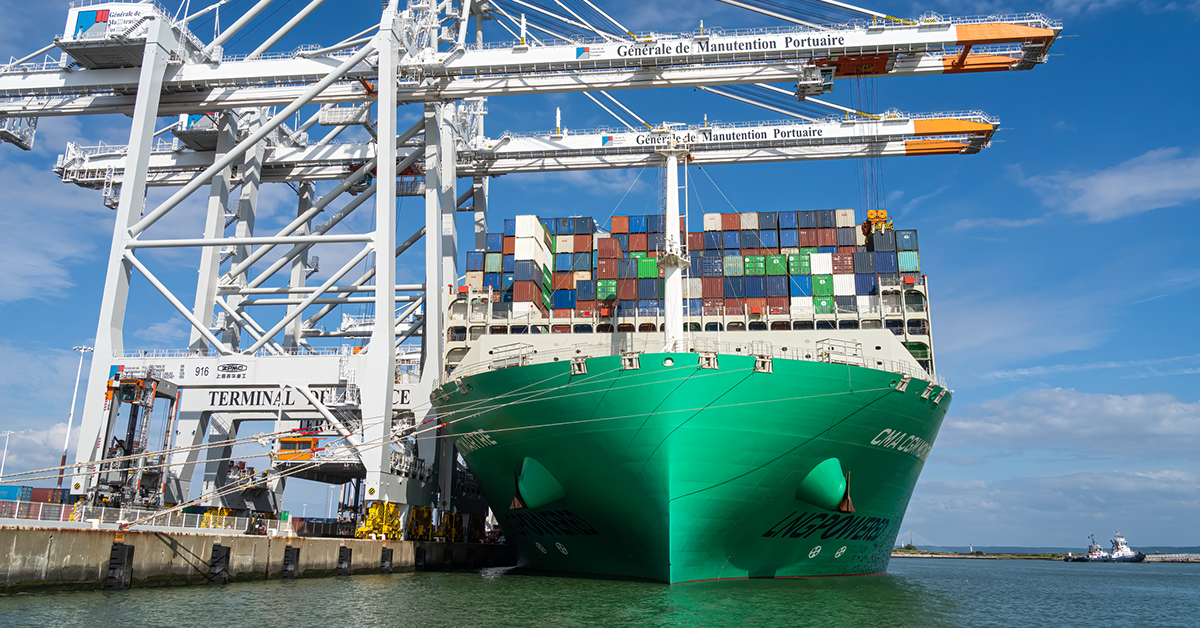 The Ocean Shipping Reform Act allows for more enforcement of rising fees and reduces export backlogs. But some food shippers say the law isn't a perfect "silver bullet."
On June 16, President Joe Biden signed into law the Ocean Shipping Reform Act of 2022, which will make sweeping changes to the ocean shipping industry after more than two years of port congestion, delays and rising costs.
The high-profile bill sailed through the House of Representatives earlier last week, and is part of the Biden administration's attempt to rein in consumer price inflation that hit a new 40-year high this month.
"I promised to crack down on ocean carriers whose price hikes have hurt American families and American businesses," Biden said in a press conference Thursday. "And today I'm proud to say that we got that done on a bipartisan basis."
Many food shippers are celebrating the legislation as a significant step forward in addressing shipping disruptions that have been created by the pandemic, including soaring fees and a lack of containers for agricultural exports. Biden said the law will address the inflation that has plagued businesses, "will put a stop to shipping companies taking advantage of American families, farmers, ranchers and businesses, and will bring down prices and give the American people a little bit of breathing room."
But the true impact will largely depend on how it's enforced by the Federal Maritime Commission (FMC), an agency with limited funding and staff that some shippers say has been historically slow to regulate the shipping industry.
Daniel Maffei, Commissioner with the U.S. Federal Maritime Commission, applauded the passage of the bill.
Congress Responds to Rising Fees and Congestion
Lawmakers were motivated to act last year after soaring shipping rates, higher fees and unpredictable ocean vessel schedules disrupted business operations and pushed many companies to raise prices. Many food shippers have claimed they have had to pay significantly more to transport ingredients, food and beverages while also experiencing major delays in ocean service.
"I'm incredibly pleased that my legislation to strengthen our supply chain, combat inflation, and support American workers and exporters will soon become law," said Rep. John Garamendi, a Democrat from California who sponsored the initial House version of the bill. U.S. Senators Amy J. Klobuchar (D-MN) and John R. Thune (R-SD) sponsored the companion legislation in the Senate.
"The nine major multinational ocean shipping companies have three consortiums to raise prices on American businesses and consumers by over 1,000% on goods coming from Asia," continued Garamendi. "This allowed these foreign companies to make $190 billion in profits last year—a sevenfold increase in one year—while refusing to take American exports. I introduced the Ocean Shipping Reform Act to provide the FMC with the necessary tools to protect American businesses and consumers and address America's longstanding trade imbalance with China and other countries."
What the Ocean Shipping Reform Act Does
The law gives the FMC greater authority over shipping companies and empowers the agency to self-initiate investigations into carriers' business practices. But one of the biggest impacts of the bill, shippers say, is that it pushes the FMC to act more aggressively on detention and demurrage, which carriers charge when cargo isn't moved quickly enough from terminals.
The legislation shifts the burden of proof to show the reasonableness of these fees to ocean carriers instead of shippers. It also requires the FMC to issue rulemaking within 45 days further defining prohibited practices by common carriers in regards to demurrage fees.
Demurrage and detention charges increased 104% from 2020 to 2021 across the world's 20 largest ports, according to a Demurrage & Detention Benchmark 2021 study by Container xChange.
"Today, American manufacturers, farmers and consumers are at the mercy of declining ocean shipping performance and rising costs," said Tom Madrecki, Vice President of Supply Chain and Logistics for the Consumer Brands Association. "Unfair practices have contributed to these costs and lack of container availability, which impacts U.S. agriculture stakeholders including many of our member companies."
In addition, ocean carriers have reduced the amount of free time that containers are allowed to sit at terminals before demurrage fees take effect, contributing to soaring costs, according to Peter Friedmann of the Agriculture Transportation Coalition. Port congestion has contributed to the difficulties for shippers to make appointments to get into terminals and remove containers.
The law requires ocean carriers to provide invoices that lay out the allowed free time and other metrics that would make it easier for shippers to see when they've been unreasonably charged. Carriers say detention and demurrage are necessary tools to encourage the flow of goods, arguing new regulations could exacerbate congestion and inject new complexities into the industry.
Concerns Over the Act
Critics of the legislation have called it "a cure that is worse than the disease," claiming it fails to address the nationally specific root causes of the challenges facing U.S. exporters and will ultimately hurt efficiency. The World Shipping Council, a shipping lobbying group, said that inadequate U.S. port infrastructure and a workforce overwhelmed by record volumes are the factors causing increased shipping costs. With Biden's presidency increasingly defined by record-breaking inflation, it is clear his administration is focused on efforts to correct course.
Like this kind of content? Subscribe to our "Food For Thought" eNewsletter!

Now more than ever, professionals consume info on the go. Distributed twice monthly, our "Food For Thought" e-newsletter allows readers to stay informed about timely and relevant industry topics and FSA news whether they're in the office or on the road. Topics range from capacity, rates and supply chain disruption to multimodal transportation strategy, leveraging technology, and talent management and retention. Learn More