Campbell Soup Company: Food Chain Snapshot
by Staff, on Sep 26, 2022 7:00:00 AM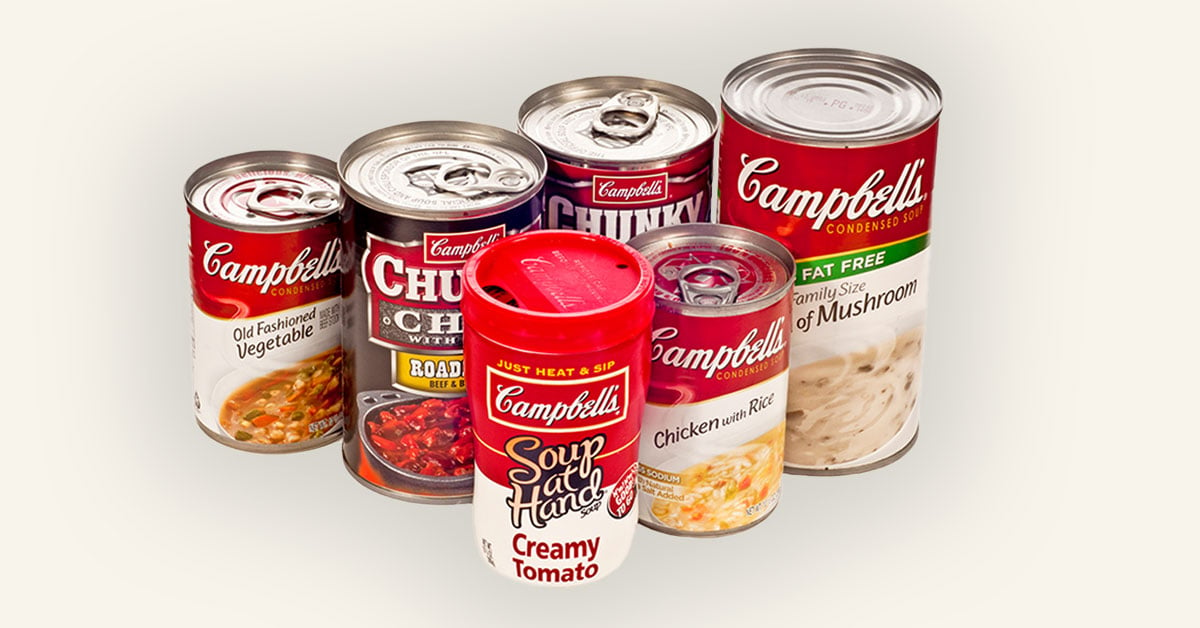 Campbell's product portfolio includes iconic brands such as its signature Campbell's soups (some pictured here), as well as Cape Cod, Goldfish, Kettle Brand, Lance, Late July, Milano, Pace, Pacific Foods, Pepperidge Farm, Prego, Snyder's of Hanover, Swanson and V8.
For more than 150 years, Campbell Soup Co. has been connecting people through food they love. Generations of consumers have trusted Campbell to provide delicious and affordable food and beverages. Headquartered in Camden, N.J. since 1869, Campbell generated fiscal 2022 net sales of nearly $8.6 billion. The food company's portfolio includes iconic brands such as Campbell's, Cape Cod, Goldfish, Kettle Brand, Lance, Late July, Milano, Pace, Pacific Foods, Pepperidge Farm, Prego, Snyder's of Hanover, Swanson and V8. Campbell has a heritage of giving back and acting as a good steward of the environment.
Improved Supply After Months of Constraints
While Campbell maintains this rich heritage, as with many food companies Campbell has navigated through significant challenges in the last two years. CPG companies like Campbell have grappled with volatile operating conditions this year, including a tight labor market and soaring inflation.
However, after months of material and ingredients shortages Campbell experienced significant improvement in its supply during this past quarter, according to Mark Clouse, President and CEO, during a recent Q4 earnings call.
The company's Pace salsa experienced an ease in supply constraints that had hampered its sales earlier this year. A handful of brands including Lance, Late July, and V8 are still experiencing material availability issues that are expected to persist during the coming months, Clouse said. "We have improved supply chain performance while demand for our portfolio's brands remained elevated," said Clouse.
The food and snack company began facing supply constraints in 2020, as the company struggled to meet heightened demand – driven heavily by the COVID pandemic.
In recent months, the company has worked to successfully strengthen its supply chain, including efforts to improve its workforce hiring and retention, Clouse said.
Boosting its workforce capabilities have helped Campbell's service levels recover, and has enabled the company "to meet demand, recover distribution and enable retailers to begin to rebuild product inventories," Clouse said. In addition, as supply bounces back the company has reintroduced promotions, mainly for its Goldfish brand, according to Clouse.
Still, shortages continue to create challenges for some product lines. Advertising and promotion costs declined by 3 percent this quarter as investments in the V8 beverage business were curbed to reflect ongoing material shortages, Clouse said. While he expects next quarter will be the company's toughest when it comes to weathering the impact of inflation, he says Campbell will continue to see renewed investments in both existing and new products.
"A year ago, we were in a little bit of a supply-constrained world, and thus then adjusting some of the investments that we had," said Clouse. "We will see that come back."
Campbells and the Foreseeable Future
Following a strong finish to fiscal 2022, Campbell is providing full-year fiscal 2023 guidance reflecting the expectation for continued elevated consumer demand for its brand portfolio, according to Clouse.
With previous pricing actions fully reflected on shelf, and elasticities expected to be slightly above fiscal 2022 levels, the company expects sales growth in both divisions. The company expects improved supply chain execution and disciplined investment in its brands to drive further share recovery. Productivity improvements and cost savings initiatives will continue to play an important role in mitigating inflation, which is expected to remain elevated.
Like this kind of content? Subscribe to our "Food For Thought" eNewsletter!

Now more than ever, professionals consume info on the go. Distributed twice monthly, our "Food For Thought" e-newsletter allows readers to stay informed about timely and relevant industry topics and FSA news whether they're in the office or on the road. Topics range from capacity, rates and supply chain disruption to multimodal transportation strategy, leveraging technology, and talent management and retention. Learn More