Canadian Pacific Reaches Deal with Union to End Stoppage
by Staff, on Mar 21, 2022 8:48:48 PM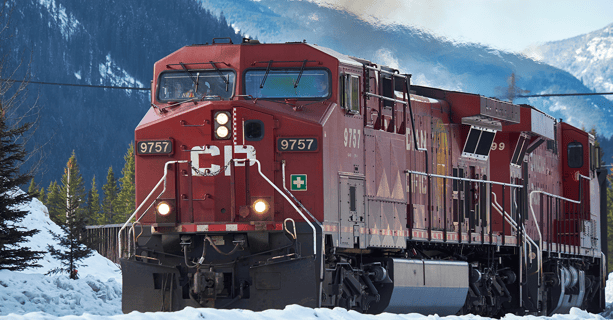 Canadian Pacific Railway (CP) trains were halted Sunday morning (March 20), stalling global shipments of key manufactured goods (including food stuffs, beverages and ingredients) after an impasse in contract negotiations between the company and its conductors and engineers. However, CP quickly announced March 22 it reached agreement with the Teamsters Canada Rail Conference (TCRC) for binding arbitration and return to work.
What a difference two days make. "CP is pleased to have reached agreement with the TCRC Negotiating Committee to enter into binding arbitration and end this work stoppage," said CP President and CEO Keith Creel. "This agreement enables us to return to work effective noon Tuesday local time to resume our essential services for our customers and the North American supply chain."
CP will immediately begin working with customers to resume normal train operations across Canada as soon as possible - after its brief and temporary winding down of service.
TCRC represents approximately 3,000 locomotive engineers, conductors, train and yard workers across Canada. One of Canada's largest railways is winding down operations after failing to reach a labor deal with unionized workers.
A Look at the Situation Over Last Weekend
"The work stoppage has begun, but CP and Teamsters are still at the table with federal mediators," Canada's Labor Minister Seamus O'Regan said in a statement released on Sunday. "Parties are working through the night. We are monitoring the situation closely and expect the parties to keep working until they reach an agreement."
O'Regan had traveled to Calgary, where contract negotiations are taking place. He had urged both sides to avoid a work stoppage that would exacerbate existing supply-chain bottlenecks and rising commodity prices. Halting Canadian Pacific's trains "couldn't have come at a worse time," he said in a video statement.
The stoppage means CP can't operate the railway and will create a "freight capacity crisis," the railway said earlier this month in a note to its customers. Food shippers involved in the Canadian market have a significant concern over this situation. For those already shipping by rail, they were concerned over the need to shift freight to alternative modes of transportation. But even for those not routinely shipping via rail, this crisis had been predicted to have a significant impact on over-the-road trucking capacity which already is significantly tight.
Also the disruptions had threatened to further create problems with supply chains and exacerbate volatility in fertilizer markets at a time when farmers are already having trouble getting key nutrients for crops for spring plantings. Crop-nutrient prices have significantly increased, fueled by a global shortfall and worries that potential sanctions on Russia could disrupt global trade. Canada, along with Russia and Belarus, is a major supplier of the world's potash, a mined material used in fertilizers. So this, too, was expected to elevate concerns for food companies that have a vested interest in the growing seasons as part of their business strategy.
Canadian Pacific is the sixth-largest freight railway in North America, shipping goods across Canada and south to central U.S. states. It is the primary shipper of fertilizers such as Canadian potash, which is mined in the province of Saskatchewan.
The prospect of a strike prompted a number of businesses, customers and politicians to publicly urge the Canadian government to introduce back-to-work legislation that would force striking workers to return to their jobs. Such a law would require a vote of Canada's parliament.
Like this kind of content? Subscribe to our "Food For Thought" eNewsletter!

Now more than ever, professionals consume info on the go. Distributed twice monthly, our "Food For Thought" e-newsletter allows readers to stay informed about timely and relevant industry topics and FSA news whether they're in the office or on the road. Topics range from capacity, rates and supply chain disruption to multimodal transportation strategy, leveraging technology, and talent management and retention. Learn More