Food Chain Snapshot: Dollar General Announces Plans for Three New Distribution Centers
by Staff, on Sep 6, 2022 10:40:16 AM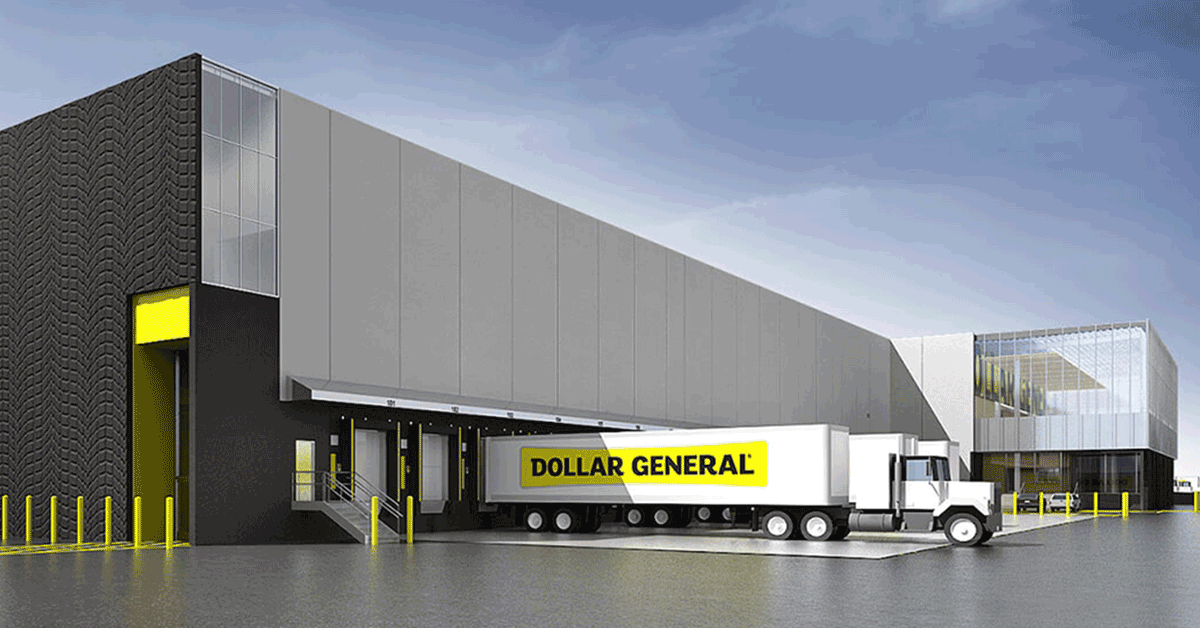 Arkansas, Colorado and Oregon Facilities Aim to Collectively Create Approximately 1,100 New Jobs; Represent Approximately $480 Million Combined Investment; and Provide DG Private Fleet Expansion Opportunities.
Dollar General recently announced plans to build three new distribution centers (DCs) in North Little Rock, Arkansas; Aurora, Colorado and Salem, Oregon. Collectively, the facilities are estimated to create up to 1,100 total career opportunities at full capacity and represent an approximately $480 million combined investment. Each state-of-the-art, approximately one million square foot facility will also support the company's growing DG Private Fleet presence. Dollar General includes a significant amount of food and beverage products as part of its merchandise offering.
"We look forward to breaking ground on these new projects, which will help us not only better serve our customers and communities, but also combine efficiencies of our DG Fresh and traditional supply chains," said Tony Zuazo, Dollar General's Executive Vice President of Global Supply Chain. "We are fortunate to have created constructive relationships with Arkansas Governor Asa Hutchinson, Colorado Governor Jared Polis and Oregon Governor Kate Brown and their teams who understand the positive economic and labor benefits DG can bring when we invest in their local communities."
At full capacity, Aurora and Salem facilities are each expected to create approximately 400 new jobs, and North Little Rock is expected to create 300.
The North Little Rock and Salem DCs are expected to add to the company's growing number of dual facilities, which combines the capabilities of ambient and DG Fresh supply chain networks, and the Aurora facility will provide traditional functionalities. The company's first ground-up dual distribution facility is currently under construction in Blair, Nebraska, and facilities in Ardmore, Oklahoma and Zanesville, Ohio currently operate with dual efficiencies having recently added DG Fresh capabilities to support supply chain efficiencies.
North Little Rock, Arkansas
The North Little Rock dual distribution center facility represents an approximate $140 million investment in Pulaski County, and construction is currently slated to begin by fall 2022 with a late 2023 planned completion date. Management hiring is expected to begin in spring 2023 with warehouse team member recruitment currently scheduled to begin in fall 2023. Dollar General currently employs more than 4,300 Arkansas residents, having opened its first store in the state in 1975.
"With more than 18,000 stores across the U.S. and 500 stores in Arkansas, Dollar General supplies millions with easy access to affordable, everyday necessities," Arkansas Governor Asa Hutchinson said. "Dollar General's choice of North Little Rock as the site for a new distribution center is more testimony to the strength of the relationships we have built nationally and our reputation as a business-friendly state."
Aurora, Colorado
Dollar General plans to invest approximately $172 million in the Arapahoe County facility. The Company opened its first Colorado store 16 years ago in 2002 in Poinsett County and currently employs approximately 600 individuals in the state. Construction on the project is currently scheduled to begin in late summer 2022, with a late 2023 completion date. Management hiring is expected to begin in late spring 2023 with warehouse hiring to begin in fall 2023.
"Colorado continues to thrive and attract new business growth as our economy gets even stronger, so we are delighted that 400 new jobs are coming to Aurora through this expansion to help keep food and other everyday items on shelves and in stock for Coloradans," said Colorado Governor Jared Polis.
Salem, Oregon
Located in Marion County, the Dollar General Salem dual distribution center represents an approximate $168 million investment in the Pacific Northwest. Dollar General currently employs approximately 750 individuals in Oregon through more than 80 stores. The Company currently expects to close on the Salem distribution center property in August 2022 and begin construction by fall 2022.
DG Private Fleet Expansion
The planned new distribution facilities also enable the continued growth of DG Private Fleet, bringing new jobs to the communities in which Dollar General operates, and the ability to efficiently deliver goods to customers. The Company currently plans for the DG Private Fleet to represent 40 percent of its drivers by the end of fiscal year 2022. Since its inception in 2016, DG Private Fleet has grown to approximately 950 tractors and drivers and 25 private fleet sites.
Dollar General is proud to provide career advancement opportunities for workers within its DG Private Fleet, providing on-the-job training to any DG employee interested in earning their Class A Commercial Driver's License (CDL).
Community Impact
Dollar General believes the addition of each distribution center represents positive economic impact in the communities it serves and takes several factors into consideration when choosing distribution centers sites including proximities to DG stores, local business environments and local workforces, among others.
Additionally, the Company is deeply involved in the communities it serves and seeks to advance and support adult, family, summer and youth literacy programs through the Dollar General Literacy Foundation (DGLF), which awards financial resources to nonprofit organizations, schools and libraries within a 15-mile radius of a Dollar General store or distribution center each year. Since 1993, the DGLF has awarded more than $216 million to help more than 15.4 million individuals take their first steps toward literacy or continued education.
Like this kind of content? Subscribe to our "Food For Thought" eNewsletter!

Now more than ever, professionals consume info on the go. Distributed twice monthly, our "Food For Thought" e-newsletter allows readers to stay informed about timely and relevant industry topics and FSA news whether they're in the office or on the road. Topics range from capacity, rates and supply chain disruption to multimodal transportation strategy, leveraging technology, and talent management and retention. Learn More