Food Companies Embrace Electric Class 8 Trucks
by Staff, on May 9, 2022 6:18:53 PM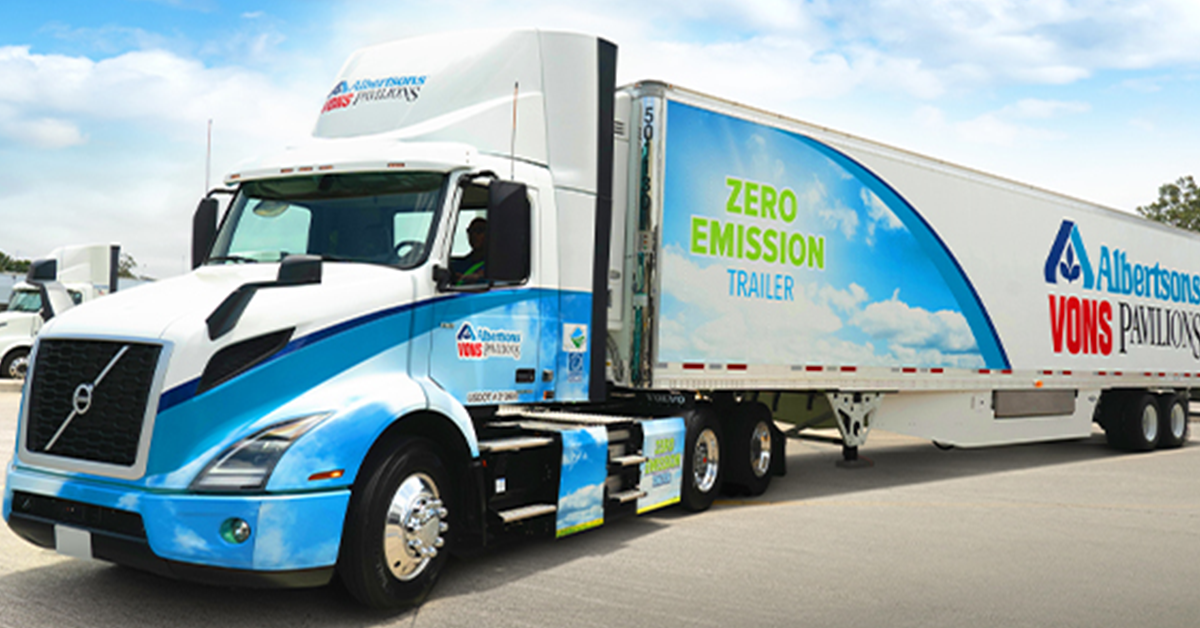 Albertsons has procured electric-powered transport refrigeration units from Advanced Energy Machines (AEM) to pair with its Volvo VNR Electrics, enabling Albertsons Cos. to make the first commercial 100% zero-emission grocery delivery with a Class 8 truck in the U.S.
There is growing momentum of food manufacturers, distributors, retailers, and restaurant chains to look at ways to have an impact on their greenhouse gas emissions reduction commitments. One significant strategy is to leverage emerging technologies involving electric vehicles. Food companies such as grocery chain Albertsons and restaurant chain McDonald's Canada have made recent commitments in this area. Food Shippers of America (FSA) reports:
Albertsons: Nation's First Commercial 100% Zero-Emission Refrigerated Grocery Delivery
Albertsons Companies, the second-largest grocery chain in the U.S., recently took delivery of two Volvo VNR Electric trucks at its DC in Irvine, Calif. The VNR Electric models from Volvo Trucks North America are the first zero tailpipe emission, battery-electric Class 8 trucks to be deployed in Albertsons Cos. company-wide fleet, and will be serving stores in southern California.
Albertsons Cos. operates 1,400 Class 8 trucks nationwide, all of which are certified under the U.S. Environmental Protection Agency (EPA) SmartWay program as meeting high transportation sustainability and efficiency standards. The Southern California fleet covers 335 stores in the region, running from the Central Coast to the California-Mexico border.
Increasing its transportation sustainability is just one way in which Albertsons Cos. reduces its environmental impact. Albertsons Cos. maintains ambitious sustainability goals in all sectors of its operations, including energy use, plastics and packaging, and recycling and waste reduction. In April, Albertsons Cos. committed to setting a science-based target to reduce carbon emissions. The company's emissions reduction target will include their direct operations and value chain in order to support the goals of the United Nations' Paris Agreement and prevent the worst impacts of climate change. In order to meet their climate goals, Albertsons Cos. will leverage innovative technology, like Volvo VNR Electric trucks, and continue to implement expansive energy-efficiency projects and produce renewable energy.
McDonald's Canada Tests Electric Truck for Restaurant Delivery
McDonald's Canada recently announced the addition of the first-ever electric vehicle (EV) to its distribution fleet. With its supply chain distribution partner, Martin Brower, McDonald's Canada will trial the new Volvo VNR Electric Class 8 tractor for distribution to restaurants in the Montréal area.
The test of this zero-tailpipe emission tractor is part of McDonald's Canada's larger plan to transition to lower-emission vehicles in the supply chain fleet that serves more than 1,400 restaurants across the country, where feasible.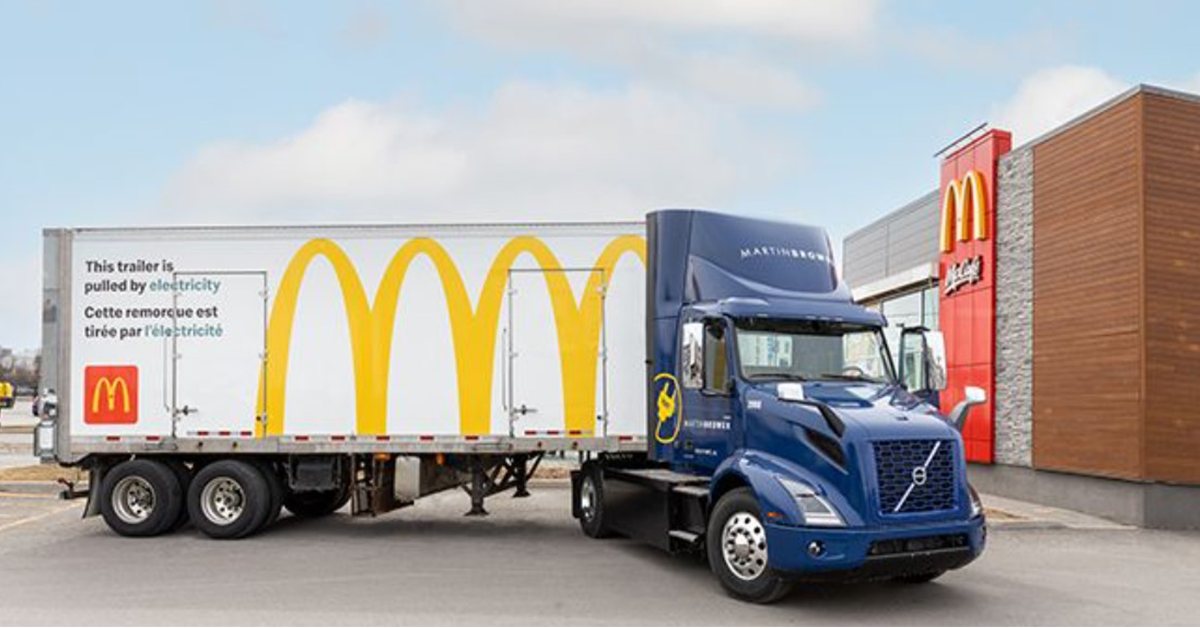 The trial's outcome could see additional diesel-powered vehicles replaced with alternative-fuel vehicles like this one for distribution in other viable Canadian markets. Globally, McDonald's has committed to achieve net zero emissions across its operations by 2050.
Martin Brower leased the tractor, which will be based out of its distribution center located in Montréal's Baie d'Urfé area. The Volvo VNR Electric tractor will pull McDonald's-branded trailers for deliveries to local McDonald's restaurants within a range of 150 km. The trial will evaluate the tractor's performance in a variety of weather conditions.
In addition to the Montréal trial, McDonald's has planned another Volvo VNR Electric Class 8 trial in Brampton, Ont. later in 2022.
"This trial has the potential to influence a major shift in the way we approach supply chain distribution that will bring us closer to reaching McDonald's net zero goals. Considering the potential impact the trial could have on our business and our global greenhouse gas emissions reduction commitments, this is an extremely significant moment for the company," says Jacques Mignault, President and CEO, McDonald's Canada.
Like this kind of content? Subscribe to our "Food For Thought" eNewsletter!

Now more than ever, professionals consume info on the go. Distributed twice monthly, our "Food For Thought" e-newsletter allows readers to stay informed about timely and relevant industry topics and FSA news whether they're in the office or on the road. Topics range from capacity, rates and supply chain disruption to multimodal transportation strategy, leveraging technology, and talent management and retention. Learn More