Food Shippers of America Announces New Leadership Team
by Staff, on Mar 21, 2022 8:35:18 PM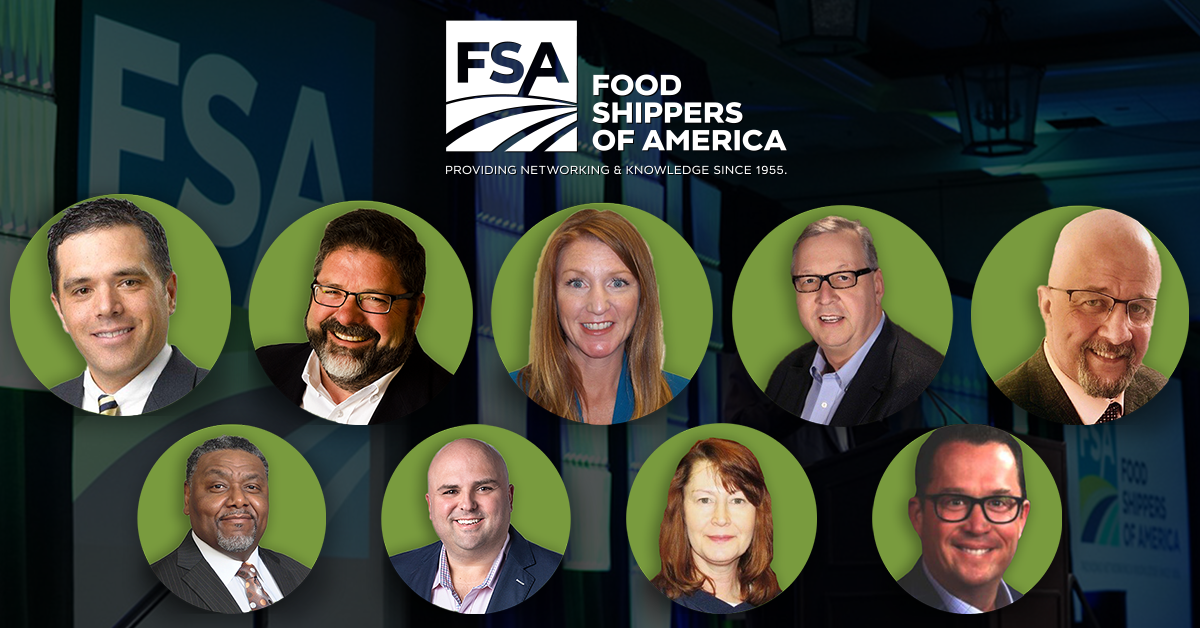 The Food Shippers of America (FSA) leadership team is comprised of professionals who are experienced in the industry and passionate about the role the association plays in the industry. FSA announces its new 2022 Officers and members of the Board of Directors.
New officers starting their two-year term are:
President: David Domencic
David Domencic is an experienced transportation executive with more than 23 years experience in transportation and logistics. Currently, he is Director Transportation Procurement with ARMADA Supply Chain Solutions. Prior to ARMADA, he held several executive positions in transportation strategy, procurement, and planning for HJ Heinz.
Vice President: Mike Marquardt
Mike Marquardt is a logistics professional with more than 30 years experience in fleet operations, refrigerated dry and bulk transportation, refrigerated food warehousing, food processing, and rendering operations. Currently, Marquardt is Vice President of Birchwood Farms.
Secretary: Darica Schneider
Darica Schneider has extensive experience in transportation, logistics and customer service. Currently, she is Corporate Manager of Transportation Operations for Hormel Foods, a multinational manufacturer and marketer of high-quality, brand name food and meat products for consumers around the globe. Prior to Hormel, she was Senior Manager of Logsitics/Customer Service for Jennie-O Turkey Store and Vice President of Marketing at McFarland Truck Lines. She holds a Bachelor's degree from The University of Texas at Austin.
Treasurer: Earnie Seibert
Earnie Seibert is a seasoned transportation and logistics leader with demonstrated success in the food manufacturing, logistics, and supply chain industry. His previous professional experience ranges from Global Logistics Leader at Sanderson Farms to Vice President at Dupre Logistics and Vice President of Sales and Business Development at CR England.
Chairman: Steve Stein
Steve Stein is an experienced transportation executive with significant expertise working in the transportation, trucking and railroad industry. Currently, he is Senior Manager of Transportation Productivity for Danone North America, which is one of the top 15 food and beverage companies in the U.S. with a portfolio of brands in fresh dairy, organic dairy, plant-based, fresh foods, coffee creamers and beverages. Prior to Danone NA, he held transportation and operations positions with The Dannon Co. and PepsiCo. Stein holds a Master of Business Administration from Franklin University.
New members of the Board of Directors are as follows:
Clyde Coleman
Clyde Coleman is an accomplished supply chain and logistics management professional with nearly 30 years experience in the food chain industry. Currently, Coleman is Senior Director of Corporate Logistics for Performance Food Group, a role he has been in since 2018. Previously, he was Director of Operation and Director of Logistics East for Performance Food Group. Prior to PFG, Coleman was Carrier Development Manager and Regional Logistics Manager for Sysco Foods. He holds a Bachelor's degree in Business from Jackson State University.
Chris Domey
Chris Domey has more than 20 years experience in supply chain management with a strong focus on strategy, analytics, decision support, procurement, operations and continuous improvement. Currently, Domey is Director of Customer Operations & Logistics for Ocean Spray Cranberries, where he's responsible for customer operations, transportation, warehousing, trade compliance and supply chain security. He also held the positions of Senior Manager of Global Logistics and Senior Manager of North American Logistics for the company. Prior to Ocean Spray, he held transportation, vendor consolidation, carrier relations and operations roles with The TJX Companies and BJ's Wholesale Club. He holds a Master of Business Administration degree from Nichols College.
Additional board members are continuing the second year of their service on the board are:
Lori Lammers
Lori Lammers has significant experience in transportation, warehousing, and network optimization in supply chain – with specialized expertise involving food products. Currently, Lammers is Senior Director of Transportation for Dawn Foods Global, a manufacturer and distributor of sweet bakery products and employer of 4,000-plus people in more than 70 countries. Previously, she was Senior Director, Transportation and Warehousing as well as Director of Transportation and Network Optimization for Hostess Brands, and Director of Fresh Meats Transportation with Tyson Foods. She holds a Masters of Business Administration in Supply Chain Management from the University of Arkansas.
Rob Lyall
Rob Lyall has more than 25 years in transportation, warehousing, and supply chain management in the food industry. Currently, Lyall is Vice President of Purchasing for Simmons Foods, a leading supplier of poultry, pet and animal nutrition products based in Siloam Springs, Ark. Prior to Simmons Foods, Lyall held various executive positions in transportation, warehousing, procurement, packaging and operations for Tyson Foods. He holds a Bachelor of Science degree in Management from Arkansas Tech University.
Like this kind of content? Subscribe to our "Food For Thought" eNewsletter!

Now more than ever, professionals consume info on the go. Distributed twice monthly, our "Food For Thought" e-newsletter allows readers to stay informed about timely and relevant industry topics and FSA news whether they're in the office or on the road. Topics range from capacity, rates and supply chain disruption to multimodal transportation strategy, leveraging technology, and talent management and retention. Learn More