Green Logistics and the Food Chain
by Staff, on Jan 23, 2023 3:15:10 PM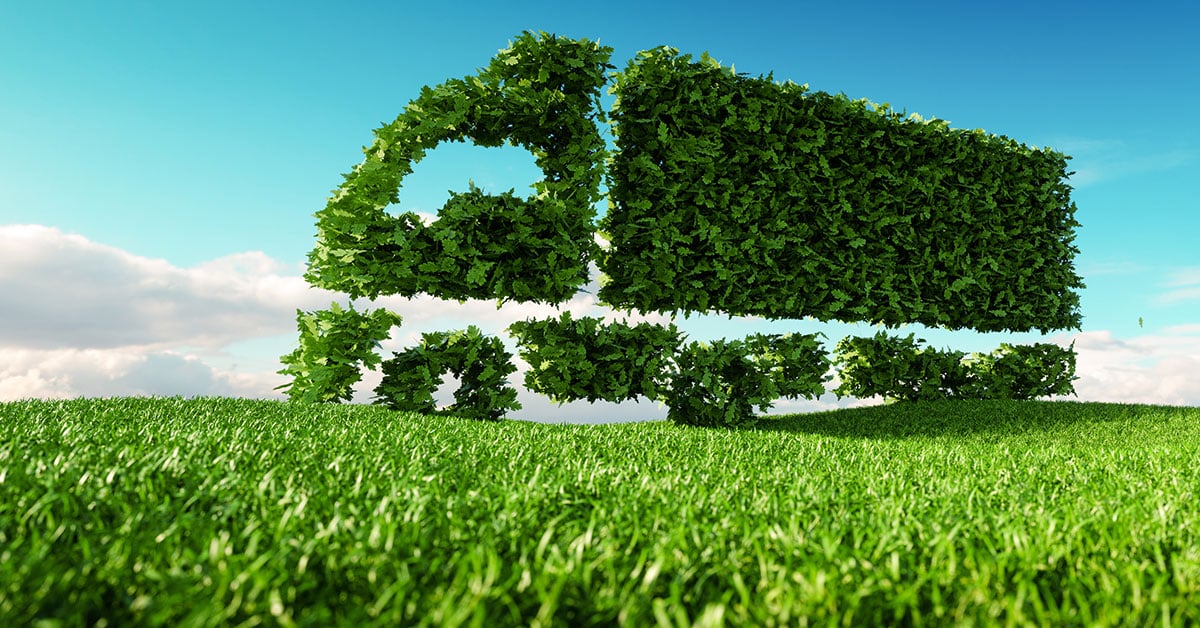 Interest in environmental responsibility is growing significantly among food shippers as there is an increased focus on sustainability in both domestically and abroad.
Greenhouse gas (GHG) emissions have been reported to contribute to climate change and according to the National Oceanic and Atmospheric Administration, over the last decade of the past century temperatures across the global have increased an average of .13°F. Temperatures are projected to increase up to 10.2°F over the next century unless action is taken to reduce harmful emissions.
Food businesses are facing pressure from stakeholders to operate in a more sustainable manner. In fact, nearly two-thirds of businesses responding to the 2020 Gartner Sustainability Survey said they felt pressure from their customers to invest in sustainability initiatives while 48 percent said pressure was coming from investors and 48 percent said they felt pressure from regulators.
According to the MIT Center for Transportation and Logistics' State of Supply Chain Sustainability report, supply chain sustainability is a moving target as the pandemic put the supply chain in the spotlight. The resulting disruptions required many businesses to assess how they could do things differently.
The Annual State of Logistics Report from the Council of Supply Chain Management Professionals (CSCMP) concluded that companies commitment to resilience also will incorporate sustainability both as a way of addressing the needs of customers and a way to control fuel costs.
Many states have mandatory GHG emissions reporting requirements, and the EPA has developed the GHG Protocol Corporate Standard which categories GHG emissions associated with a company's carbon footprint. The standard categorizes emissions as follows:
Scope 1 ("direct emissions" created from a company's owned or controlled sources.
Scope 2 ("indirect emissions" from purchased or acquired energy such as electricity that is purchased from a utility that generates the emissions but the purchaser indirectly impact the emissions).
Scope 3 ("indirect value chain emissions" defined by the EPA as emissions that are the "result of

activities from assets not owned or controlled by the reporting organization, but that the organization indirectly impacts in its value chain"). Transportation and distribution fall into this
The CSCMP report analysis said this "has raised the bar for actual achievement of sustainability goals."
Given the pervasiveness of GHG emissions, it is going to require collaboration throughout the entire supply chain for food shippers to reach their sustainability goals. Shippers will need to rely on their partners if they hope to make significant progress toward achieving meaningful sustainability goals.
"To stay ahead of ever-accelerating supply chain and customer demand, food and beverage operations need solutions that are connected and scalable," says Damon Hosmer, Product Marketing Manager, Energy Storage Technology & Integration at The Raymond Corporation.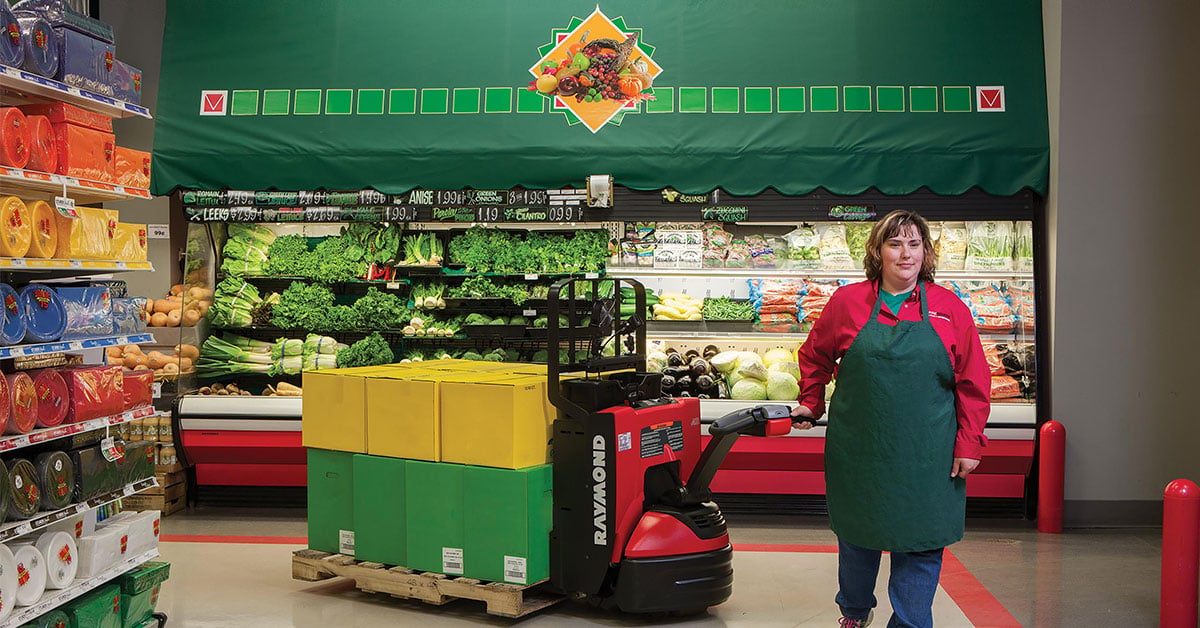 This is especially true given that, according to the MIT research, "People are looking to only purchase from companies that are investing in sustainability and are committed to being leaders in the space."
CSCMP believes the biggest carbon reduction opportunities can only pursued via shippers and carriers working together. The report says, "Logistics is all about helping different entities collaborate toward fulfillment of shared goals, so this boundary-bending, we'rein-this-together approach to sustainability is a natural for the sector."
The association also believes that in time shippers will be able to use science-backed tracking of the Scope 3 emissions "to quantitatively assess suppliers' sustainability practices and to choose partners whose aspirations align with their own."
The good news for food shippers is that fleets are taking action to operate more sustainably. TravelCenters of America Inc. recently completed a Sustainable Fuel in Trucking: The Greening Of America's Trucking Industry survey. It found that nearly one-third of the fleets responding to the survey have already adopted sustainability or net-zero emissions goals.
Food shippers need to be aware that fleets have a variety of options when it comes to operating cleaner trucks, including compressed natural gas, renewable natural gas, biodiesel, renewable diesel, battery electric power and hydrogen fuel cell power. However, fleets are showing a great deal of interest in battery electric vehicles, with half the companies responding to the survey indicating they expect to have electric vehicles in their fleets by 2030. Most of the companies responding to the survey anticipate that battery electric trucks will make up 11 percent to 25 percent of their fleets by 2030. Currently only 5 percent of the fleets responding to the survey have hydrogen vehicles today but that number willlikely increase to nearly 25 percent of fleets by 2030.
Food shippers are advised not to ignore the sustainability issue. Doing so could cause them to lose their competitive advantage and even lose out on new business as more and more companies are placing increased emphasis on meeting sustainability goals. Now is the time for food shippers to start questioning their supply chain partners about their sustainability efforts in order to find the right partners for the future.
Working with their supply chain partners to achieve GHG reductions is good for the environment and a smart business decision.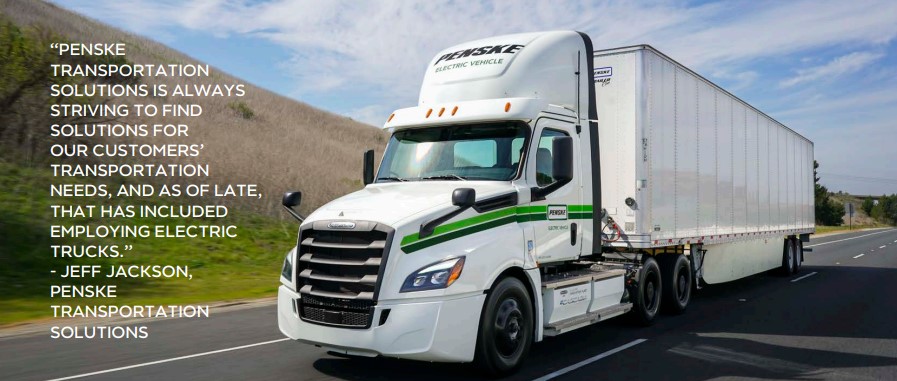 EVs Just Part of Penske's Sustainability Efforts
According to Jeff Jackson, Executive Vice President Operations, Dedicated Contract Carriage, Penske Logistics, a Penske Transportation Solutions Company, "Penske Transportation Solutions is always striving to find solutions for our customers' transportation needs, and as of late, that has included employing electric trucks."
He says the company works to spec vehicles to efficiently do the work its customers need and is constantly optimizing customer logistics networks and continually improving maintenance practices to ensure equipment is operating at peak efficiency. The company uses technology to analyze, identify and implement improvement opportunities that lend themselves to sustainable transportation solutions.
Jackson says Penske is a market leader with the use of light-, medium- and heavy-duty electric trucks. In its logistics fleets Penske is running a select amount of heavyduty electric vehicle in California on behalf of its customers. The company also is working with truck makers to pilot electric trucks in other applications.
In addition, Penske is active with the U.S. EPA SmartWay program and enrolls its customers in the measurement program.
He says the company "understands that food shippers place a high value on consistent and on-time delivery of their products. With Penske Logistics, they get high uptime with sustainable transportation solutions. If there is a sustainable transportation solution that a current or prospective customer is interested in incorporating into their fleets, we have the equipment, knowledge and support to make that a reality."
Being a Good Environmental Steward
The Raymond Corp. says that it works to minimize its direct and indirect impacts on the environment through a variety of initiatives.
According to Damon Hosmer, Product Marketing Manager, Energy Storage Technology & Integration at The Raymond Corporation, "Our century-long history of innovation, quality and service naturally led to us incorporating environmental considerations into the design process for the life cycle of our products."
In partnership with Binghamton University faculty and New York State Energy Research and Development Authority, the company developed a new energy storage process that will turn warehouses into controllable energy hubs that can be optimized to supplement the power grid during normal and peak operations.
"We also work to provide our customers with energy solutions and material handling equipment that is environmentally conscious. Our equipment is designed, engineered and manufactured for eco performance to help lower energy costs, reduce carbon footprints, enhance productivity and throughput, while still providing unmatched durability and reliability at a lower cost," he says.
Regarding its work with food shippers, Hosmer says, "We help operations anticipate increased demand by providing innovative intralogistics solutions that drive effectiveness through the optimization of people and processes." The company offers a full line of forklift batteries, chargers and battery handling systems.
"As a single-source energy solutions partner, we provide service and support across our customers' entire portfolio of energy solutions to identify, integrate and optimize the right energy management and control systems for their unique needs," he adds.
"We recognize our responsibility to be a good steward of the environment and contribute to a more sustainable planet. We strive to reduce our impact, and that of our customers, on the environment," he concludes.
Alliance Shippers: Making a Difference
More than 10 years ago, the Temperature Control Division of Alliance Shippers switched to Carrier's Vector refrigeration units as a way to save fuel but also found additional benefits. Ed Wright, Vice President of the Temperature Control Division of Alliance Shippers, explains that for every gallon of fuel a refrigeration unit burns, it produces approximately 22.2 lbs. of CO2. "As we looked at more efficient refrigeration units, we also realized that there was an impact on the environment."
The Temperature Control Division moves the majority of its freight by rail and found that the CO2 output of a shipment moved via rail vs moved with a truck yielded anywhere from 55 percent to 64 percent less CO2. In fact, as a SmartWay participant/provider since 2006, Alliance Shippers continuously works on methods that improve fuel deficiencies within its ALLZ fleet. It's CARBcompliant refrigeration fleet has the most current technology to move products with reduced CO2 emissions by approximately 67 percent via the nation's railways.
Alliance takes a consultant's role with its customers and helps them find ways to further reduce their CO2 emissions. One example was using geofencing to adjust temperatures during shipping to account for the impact of the product expanding at high elevation. This resulted in a 20 percent reduction in CO2.
Another was convincing a client that its product that was at 0°F when loaded did not need to be hauled at -20°F and that setting the refrigeration unit at the higher temperature resulted in less fuel being used and reduced CO2 emissions.
"When we put a proposal together, we put together our operations plan, our pricing strategy and plan and then we tell them what the CO2 reduction will be using intermodal."
Univar Solutions: Environmentally Conscious Technologies
As a global leader in chemical and ingredient distribution, Univar Solutions takes its environmental, social, and governance (ESG) responsibilities seriously. The company is implementing technology, processes, and culture to support its sustainability goals: to reach 20 percent absolute reduction in CO2e emissions by 2025, 40 percent by 2030, and to achieve net-zero direct emissions by 2050. One of the ways the company is making a difference is by implementing electric trucks.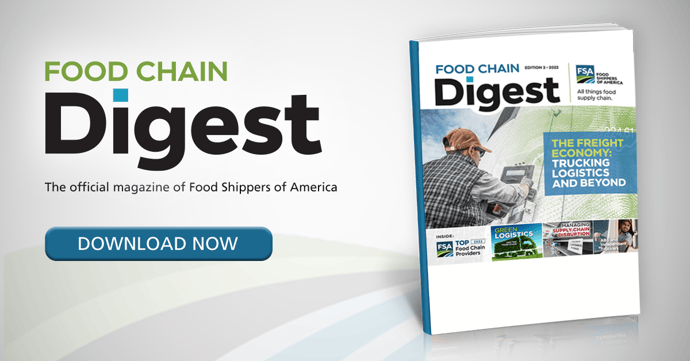 This article was originally featured in Edition 3 of 2022 of Food Chain Digest magazine. Download the digital version today!