Grocery Shelves Haven't Returned to Normal This Year
by Staff, on Dec 21, 2021 2:45:00 PM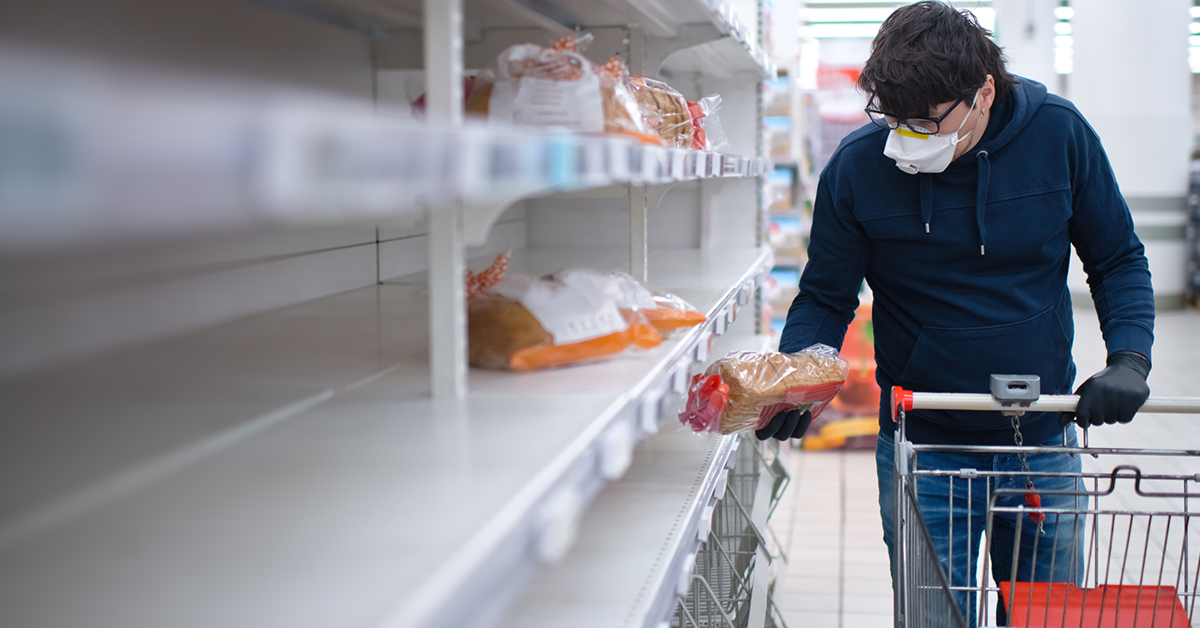 The pandemic had created dramatic changes in consumer buying behavior in 2020 - particularly in the area of retail grocery. And things haven't returned back to normal in 2021. Grocery chains and independents have been working hard to keep up with supply and demand changes since COVID. To be sure, the pandemic has taught grocery supply chain executives valuable lessons.
Many major food manufacturers have been reporting to their grocery customers that there will continue to be limited quantities of many products due to labor, raw goods, transportation and distribution constraints that continue to throttle food chains.
Some suppliers also are telling retailers to reduce or even cancel promotions of these items over the upcoming holidays so these products won't disappear from store shelves too quickly. In addition, some suppliers warn of potential shortages of packaging and containers such as glass jars.
Such "purchase limits" from food and packaging manufacturers were rare before the pandemic and are creating "lesser than full shelf conditions" for grocers. As a result, some grocery retailers are attempting to tap secondary suppliers when their primary suppliers cannot fulfill orders.
Of course, shortages on grocery shelves are not nearly as serious as they were at the beginning of the coronavirus outbreak in March of 2020, when shoppers flocked to grocery stores to stockpile food and household supplies. But supplies in grocery store aisles have not fully returned to pre-pandemic levels, and major grocery chains have more recently reinstated purchase limits for consumers on some product lines such as cleaning supplies and paper products.
Interestingly, approximately 18% of beverages, 15% of frozen foods, 16% of snacks, 15% of candy and 18% of bakery items were out of stock at stores during the week ending on October 3, according to recent data from the IRI CPG Supply Index. IRI tracks in-stock levels at leading U.S. grocery chains, big box stores, wholesale clubs and pharmacy chains. According to IRI, prior to the pandemic only 7% to 10% of products typically were out-of-stock on shelves.
When supplies are in short supply, food manufacturers often reduce or eliminate some of their fringe items to focus on ramping up production of top-selling products, according to Krishnakumar Davey, president of IRI's Strategic Analytics Practice. They also can eliminate products that are more expensive to make, says Davey.
What Supply Chain Lessons Have CPG, Retail Execs Learned?
The pandemic drove major inventory disruptions and the simultaneous explosion in online shopping which has reshaped the grocery supply chain, according to CPG retail and distribution executives during a panel discussion at a recent FMI Executive Conference.
Covid had an unparalleled impact on food and beverage retailers and manufacturers that has caused an "interruption in the way we do business" and has necessitated a fundamental restructuring of the retail and manufacturing environments as we see it today," said Thom Blischok, Chairman and CEO of CPG and retail advisory firm The Dialogic Group in a recent Supermarket News report.
Grocery retailers and suppliers adapted and came through for U.S. consumers when the pandemic crisis hit, and food industry stakeholders can help create a "better normal" as the nation emerges from the pandemic, FMI-The Food Industry President and CEO Leslie Sarasin said during her keynote at a recent FMI executive conference. "It has changed our world. It has changed the way we work, the way we socialize, the way we engage in commerce and the way we live our lives," she said. "As many have observed, there simply is not going back to the normal we knew before the pandemic." The food industry had changes "foisted upon us" from all directions - including the areas of employee and customer safety, supply, operations, and new ways of doing business - but can continue to direct them, modify them and improve them, she said.
What To Expect on Grocery Shelves
Some food manufacturers are now imposing on grocery stores and distributors limited allocations (also known as "purchase caps") of certain commodities, while other suppliers are warning of limited availability of these items. Suppliers typically put products on allocation when they are short in the supply chains.
These allocations have not been confined to one region of the country or a single type of retailer, according to an executive at a leading regional wholesaler. Rather they are happening nationally, according to the executive, who spoke on the condition of anonymity to protect the company's relationships with suppliers and other wholesalers. But the limits could pose unique challenges for independent grocers, who have raised concerns in the past year that suppliers prioritize larger chain customers over small independents.
"Online is now offline, and offline is now online," says Blischok of the omnichannel growth surge in grocery. "The supply chain absolutely stretched to the the limits - broken in many cases. We saw disruptions in the supply chain itself. We saw disruptions in what was going into the store. We saw disruptions in logistics and distribution."
"The monomaniacal focus of not just Kroger, but our industry, on the health and safety of our associates and our customers was second to none," said Stuart Aitken, Chief Merchant and Marketing Officer at The Kroger Co. during a panel discussion at the FMI Midwinter Executive Conference. "In fact, one of the things Kroger did was create this Blueprint for Businesses. There was something we wanted to publish to ensure that, whatever we learned, we could share it with everybody. This was a crisis in the U.S., and we had to all look to one another for help, whether it was manufacturers, our supply chain folks, our sourcing folks. Overall, I was so impressed with how we as an industry came together, how we as an industry helped our customers and truly looked after our associates."