FSA Helping Individuals through Scholarships
by Staff, on Sep 20, 2023 1:33:50 PM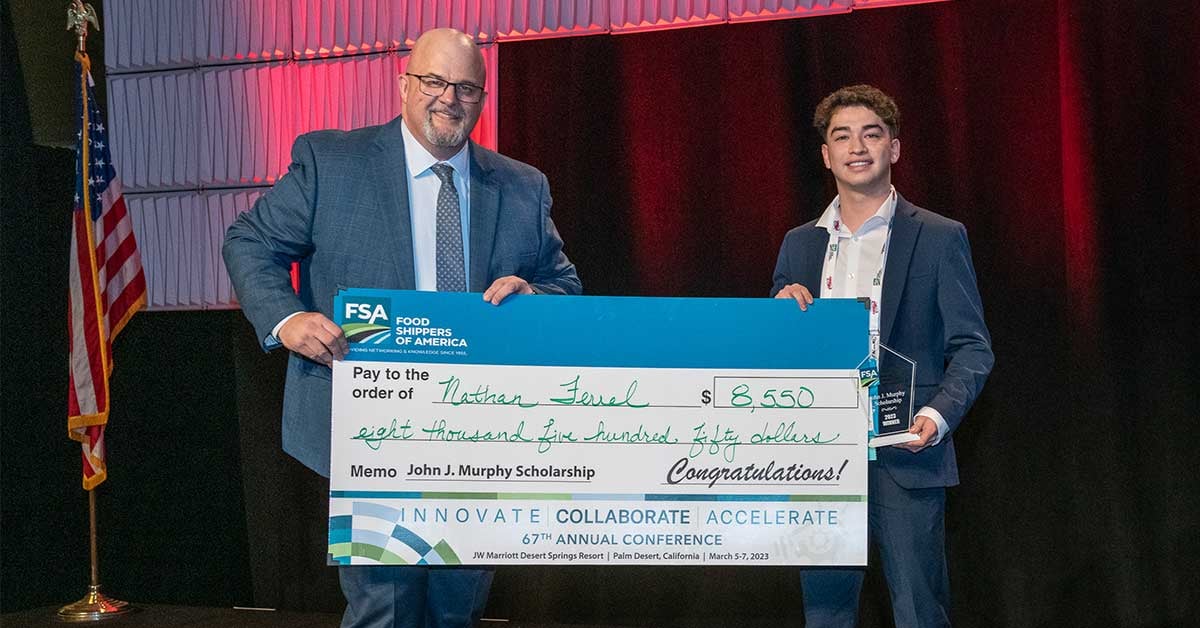 Nathan Ferrel receives a 2023 scholarship for $8,550. The son of FSA member Hector Ferrel of McLane Food Service, Nathan is majoring in Supply Chain Management at the University of Arkansas.
If you have a child or dependent who has continuing education in their future then you do not want to miss out on this scholarship opportunity! If you work for a company who has at least one team member who has a current Food Shippers of America membership (dues currently paid) then your child or dependent is eligible to apply! In fact, there will be a total of U.S. $22,500 awarded in scholarships through the 2024 John J. Murphy Scholarship!
History of the Scholarship: FSA Giving Back
John Murphy was one of the longstanding members of FSA both as a food manufacturer and FSA staff member. He spent more than 40 years in the transportation, of which the last half was at The Borden Food Co. Most importantly, he understood and progressed the values of FSA to be an educational and networking resource that could be influential in driving change in the industry.
For years, the Food Shippers of America (FSA) has sponsored a scholarship program in Murphy's name. Eligible applicants are children or dependents (including spouses) of a supply chain or logistics employee who is a member of the association. This year, FSA awarded scholarships to four applicants.
1st Place: Nathan Ferrel (Parent: Hector Ferrel, McLane Food Service/Vantix Logistics)
Nathan Ferrel is majoring in Supply Chain Management at the University of Arkansas where he also is a member of Pi Kappa Alpha Fraternity. Ferrel intends to finish his degree this year with a 4.0 GPA and aims to secure his name on the Chancellor's list.
Farrel plans to obtain an internship with a supply chain company that is involved with FSA and has a mission based on excellent customer service and care. His long-term goals include working for a major logistics company as a sales representative, and working overseas to assist in the production of materials from sources outside of the country.
"To have the ability to devise strategies on how to execute new initiatives and evaluate different opportunities is fascinating and an extreme challenge I want to conquer," says Ferrel.
2nd Place: Stephen Venable (Parent: Brett Venable, Burris Logistics)
When Stephen Venable began college at Cedarville University, he was uncertain of his intended field of study. However, it didn't take long for him to realize his real passion was in the computer science field.
He currently is an intern in the IT Department at Burris Logistics, where he has held positions as a data analyst, software quality assurance analyst, and most recently as a software developer where he built automated software testing applications for Burris' proprietary supply chain portal as well as enhancements to a performance management system.
"I enjoyed my most recent internship position so much that I changed my major to computer science and hope to pursue a career with the Burris Logistics software development team," says Venable. "Ultimately, I would like to earn a master's degree in computer science or cybersecurity."
3rd Place: Naomi Lin (Parent: Michael Lin, Musco Family Olive Co.)
Due to her passion for film production, Noami Lin is a television, film, and media production major and finance minor at San Diego State University where she plans to graduate from in three years. Lin has held internship positions at Katch Media and the BRIC Foundation, where she was able to gain an in-depth understanding of audience viewership analysis and concept development. She plans to apply for more internship opportunities in the near future. Additionally, Lin plans to travel internationally to immerse herself in other cultures and gain a more globalized perspective.
"My goal is to become a film producer and a voice actor," says Lin. "I thrive in settings involving change and adapting to new projects. Therefore, within this industry I aim to dabble in each process of film preproduction, production, and post-production."
4th Place: Kristen Murray (Parent: Kevin Murray, Red Gold Tomatoes)
Kristen Murray, a high school student who is passionate about children, has a dream to become a pediatric optometrist. She is president of the Westfield High School Dance Marathon, a member of the executive team for her high school's DECA Club, and part of the National Honors Society, where she achieved above an unweighted GPA of 3.5. Her goal is to attend Purdue University for her undergraduate degree and major in health and human sciences with a preoptometry focus. "My goals align with my passions and heart for helping others and I know they are something I can work towards and accomplish," says Murray.
Interested in Applying for the 2024 John J. Murphy Scholarship?
This Food Shippers of America (FSA) Scholarship program will again be available for a child or dependent of a supply chain or logistics department employee of an FSA member whose membership is current. The application deadline is Dec. 31, 2023. The primary award of $7,500 will be awarded to whom is determined to be the most qualified individual based on review of submitted applications by the current Officers and Board members of FSA. The top applicant will be invited to attend the Food Shippers of America annual conference for a presentation of scholarship award. Additional consideration will be given to applicants with a major in Logistics or Supply Chain Management and a total of $22,500 will be awarded.
Click here for full details and to apply
Like this kind of content? Subscribe to our "Food For Thought" eNewsletter!

Now more than ever, professionals consume info on the go. Distributed twice monthly, our "Food For Thought" e-newsletter allows readers to stay informed about timely and relevant industry topics and FSA news whether they're in the office or on the road. Topics range from capacity, rates and supply chain disruption to multimodal transportation strategy, leveraging technology, and talent management and retention. Learn More