How Edge Logistics Enables Shipper Readiness in Food Logistics
by Edge Logistics | Sponsored Content, on Jul 11, 2022 10:03:45 AM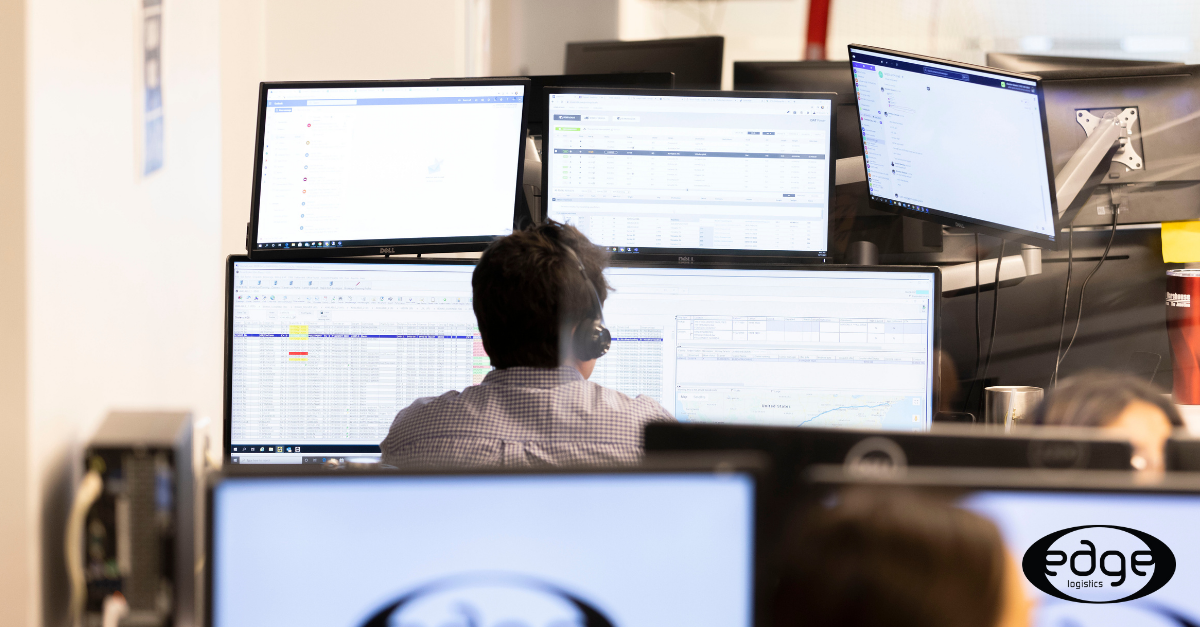 Traditional supply chain management strategies have fallen severely short as disruption after disruption continues to plague the food logistics market. Past inefficiencies culminated in spoiled product and lost capacity faced global challenges in sourcing new suppliers and raw materials. Cultural barriers, including language, suddenly became table stakes for shippers trying to find capacity. The expected growth within the food logistics market also hastens overall market instability. According to 2021 research, the global food logistics market will reach 154.5 billion USD by 2027, registering an 8.1% CAGR from 2022 to 2027. However, Edge Logistics is actively working to reduce constraints and mitigate disruptions in food logistics through four primary means, including gaining recognition as an ISO Excellence in Service Award for 2021.
Instant Access to Capacity With Superior Tech
Securing capacity remains a challenge in logistics. In industries where time is of the essence—for example, food logistics—finding immediate capacity will mean the difference between a timely delivery or potentially spoiled goods. Edge Logistics is leading the charge toward securing more capacity with superior technology that can lessen the stress of finding the just-right carrier for each load. Leveraging the award-winning Edge CAPACITY app affords shippers instant, and easy access to a vast pre-vetted network of drivers and carriers. Meanwhile, this technology stack is well-suited to continue amplifying the ability of food shippers to find capacity through a few other capabilities, as explained below.
Around-the-Clock Shipment Tracking
Food logistics carries the weight and responsibility of complete transparency and traceability of all loads much more so than other industries. Shippers in all industries need to know the real-time status of all loads at all times. Food shippers also must prioritize tracking real-time temperatures with each load and ensuring its viability upon delivery. Failure to do so may lead to excess spoilage and additional waste, resulting in potential chargebacks to the carrier and losses for shippers. However, Edge Logistics is continuously working to overcome challenges through strategic partnerships and advanced geo tracking.
Continuous 24/7 Bilingual Support
Maintaining supply chain stability has grown increasingly complex in recent years. Shippers now understand the need for flexibility and agility in sourcing transportation capacity and raw materials, fresh produce, and other products necessary to ensure quality food logistics throughput. Part of this understanding means recognizing that cultural and language barriers can and do exist between freight management parties. In turn, the best solution is to ensure that all network partners can communicate their needs properly and concisely. Edge Logistics proactively provides around-the-clock, continuous 24/7 bilingual support. Edge's dedicated team of bilingual freight experts can prevent missteps that some of the more automated or unreliable translation services might miss while still promoting the Edge guarantee of service excellence. In turn, food shippers from across North America can rest assured language doesn't become a hindrance in planning or executing loads.
Turnkey Lane Level Analysis With World-Class Analytics and Forecasting Capabilities
The final piece of the food shipping efficiency puzzle rests with continuous analytics and forecasting to understand demand. Top-quality freight brokers such as Edge Logistics recognize the importance of accuracy and integrity in their data sources. As a result, Edge Logistics leverages state-of-the-art data analytics and forecasting tools, including FreightWaves SONAR and TRAC, to ensure rates tendered within the award-winning CAPACITY app reflect actual market conditions for each load and lane. These tools provide data aggregated on every load by limiting analized carriers therefore not skewing rate insight. Furthermore, increased insight into market dynamics helps Edge Logistics understand the onus and importance of continuously diversifying its carrier network, attracting more drivers, and ensuring complete shipment details are passed along to drivers wholly and quickly.
Be on the Edge of Food Logistics Efficiency With Edge Logistics
All the ways Edge Logistics is working to mitigate disruptions in food logistics come to a head when a load is tendered by team members in the Edge CAPACITY app. At that point, all the precursory steps are complete, and drivers can instantly accept and confirm load details. That level of freedom and flexibility depends on the world-class capabilities underway at Edge Logistics. And with the CAPACITY app continuous in development to build out new, enhanced efficiencies, Edge is certain to help all shippers, including food manufacturers, distributors, or other parties, stay future-ready. Request a quote with Edge Logistics today.
Like this kind of content? Subscribe to our "Food For Thought" eNewsletter!

Now more than ever, professionals consume info on the go. Distributed twice monthly, our "Food For Thought" e-newsletter allows readers to stay informed about timely and relevant industry topics and FSA news whether they're in the office or on the road. Topics range from capacity, rates and supply chain disruption to multimodal transportation strategy, leveraging technology, and talent management and retention. Learn More