How to Maximize Your FSA Conference Experience
by Staff, on Feb 20, 2023 11:01:07 AM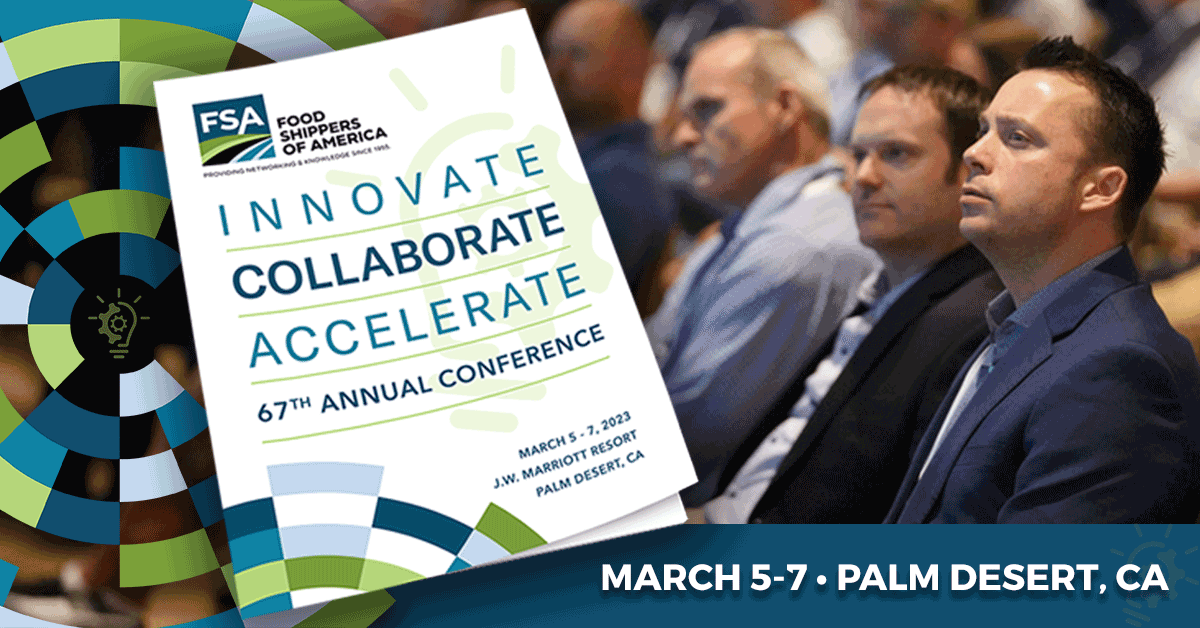 The 2023 Food Shippers of America Annual Conference will take place March 5-7 at the J.W. Marriott Palm Desert Resort in Palm Desert, Calif. This 3-day event brings together more than 1,000 professionals in the food shipping industry representing shippers, receivers, carriers, logistics companies and affiliated providers of goods and services. When you attend, you'll find opportunities to learn what's happening in the industry, to meet with current business partners, to make new connections and to catch up with old friends.
Here's how to ensure you maximize your conference value and experience:
Plan in Advance.
The 2023 Conference Co-Chairs Mark Purdy of General Mills and Craig Paulsen of Schneider have been busy collaborating with their team to develop an agenda that is relevant and powerful for those attending. "Have a list of the goals that you want to accomplish at the conference," advises current FSA President David Domencic, Director of Transportation Procurement at ARMADA.
Use the App.
The app for the 67th Annual Food Shippers Annual Conference is now available for download on your Android or IOS device. Please note that the APP will appear with a CVENT phone icon. You will need to search for the Food Shippers of America 67th Annual Conference app after you have downloaded the CVENT app. Once you have located the Food Shippers app, you will be able to log in with credentials sent to the email address that you registered for the conference with, and begin using the app.
Arrive Early.
While budgets and schedules don't always allow for an extra overnight, it's a good idea to arrive at the conference site on Saturday and take advantage of early registration. Activities start at 6:30 AM on Sunday morning with a grab-and-go breakfast for people participating in the golf tournament.
Participating in Golf?
For the 2023 Food Shippers conference golf outing, the pairings will be emailed to all registered golfers at the email address used to register for the conference, on the morning of March 4th (the day before the conference golf outing). If you have any special pairing requests, please contact Paul Newbourne at executivedirector@foodshippers.org.
Use Sunday for Networking.
Sunday is the best day for scheduling meetings. The conference is packed with activities during the full day on Monday and the half day on Tuesday, and it's tough (and tiring) to squeeze in too many meetings during the session breaks, advises one past attendee.
Sunday, by contrast, is mostly open, and FSA sets aside certain areas during the afternoon for people to meet and talk. (Of course, you're not limited to these designated spaces; meetings take place around the pool, in the bar or restaurant, in the lobby, etc.)
Networking opportunities continue on Sunday evening with the welcome reception, the buffet dinner for conference participants and then informal gatherings at the bar, in the lobby, etc.
Take Advantage of Limited Invitation Events.
The FSA Conference attracts people involved in all aspects of the food shipping industry, so attendee viewpoints on many issues. But sometimes it's helpful to limit the focus and talk directly with people who share your challenges and your industry perspective.
The Shippers and Receivers invitation-only breakfast on Monday morning provides one venue for those discussions. "The organizers try to make sure that you have the opportunity to talk to another shipper who is in a similar role to see how they're fixing the problems you may have, or to see if they're even having the same problems," says a former attendee.
The annual Sisters Within the Supply Chain tea on Sunday afternoon is another such event. (Don't let the name fool you – it's more like a cocktail party). Since most of the conference participants are men, it's good for women in the industry to have this opportunity to talk with one another.
There's also is a Sunday reception for first-time attendees.
Get Inspired.
The conference's keynote speaker doesn't specifically address industry issues but does set the tone for the conference sessions.
"We've had everyone from Sully to Terry Bradshaw to Archie Manning, and they've all done a great job," said Domencic. "We meet with them before the conference and they always tie their message back to what we do and how we do it, so that we can relate to it. The attendees are thinking, 'This is how I can apply it, or how my organization can apply it.'"
"It's a great way to start the conference; it really gets you fired up."
This year's keynote is Daymond John, who is a businessman, investor, television personality, author and motivational speaker. He is well known as the founder, president, CEO of FUBU and star from ABC's Shark Tank reality television show. John will share his philosophy and business practices that helped him achieve personal and professional success.
Don't Skip the Sessions.
When you look at the conference agenda, you may question if a certain session has relevance to your business. But it may offer more than you think, since conference planners always keep the various attendee groups in mind when they're choosing speakers and panelists.
"The way the sessions are designed, we try to speak to everyone, to anticipate some of the questions or potential wants of attendees and address them," said Domencic. "If you're there for the first time, you might think, 'This really doesn't hit the mark for me,' but when you're sitting in the session you will think, 'So that's how this will apply to me.'"
Organizers work hard to make sure that they are including relevant industry information and encouraging candid discussions during the panels and presentations, he added. All attendees should feel that they've learned something new, or that they've been able to confirm – or to question – their position or understanding of an issue.
Schedule a Debrief.
With so much going on in such a short time, it's easy to forget some of the insights and information you've gained during the conference. To ensure that doesn't happen, Domencic and his team take notes after meetings and sessions and then share them at a debrief shortly after their return to the office. They'll discuss what they've learned from the sessions and report on their conversations with the people that they've met throughout the 2 ½ days.
"The goal is to maximize that experience and to make sure that you get the most out of it," says Domencic.
Here Are Some Pointers for First-time Attendees
Come with a co-worker and aggressively network.
The conference is a great place to meet new people. Bring a co-worker if you can but be prepared to "put yourself out there" and don't be shy. People attending conferences are typically wanting to actively network! As you build relationships within your industry network at FSA, you can also compare notes, share perspectives, etc.
Attend the First-Time Attendee Reception on Sunday.
You'll meet the leaders of FSA, get some ideas on how to make the most of your time at the meeting and find others who are also navigating the conference for the first time.
Remember that people want to meet you. It can be intimidating to be among a crowd of people who all seem to know each other. But conference attendees also want to make new connections, so don't be shy about sitting down at a table with strangers and introducing yourself. (Don't forget, they were once conference newbies, too.)
Make notes for next year. As you're going through the conference and/or on your way home, jot down your thoughts on the experience. What were the highlights? What did you do right? What do you wish you had done better? How could you be better prepared for the next conference?
Like this kind of content? Subscribe to our "Food For Thought" eNewsletter!

Now more than ever, professionals consume info on the go. Distributed twice monthly, our "Food For Thought" e-newsletter allows readers to stay informed about timely and relevant industry topics and FSA news whether they're in the office or on the road. Topics range from capacity, rates and supply chain disruption to multimodal transportation strategy, leveraging technology, and talent management and retention. Learn More