Market Assessment: Share of Food Tonnage by Mode
by Staff, on Nov 7, 2022 8:15:00 AM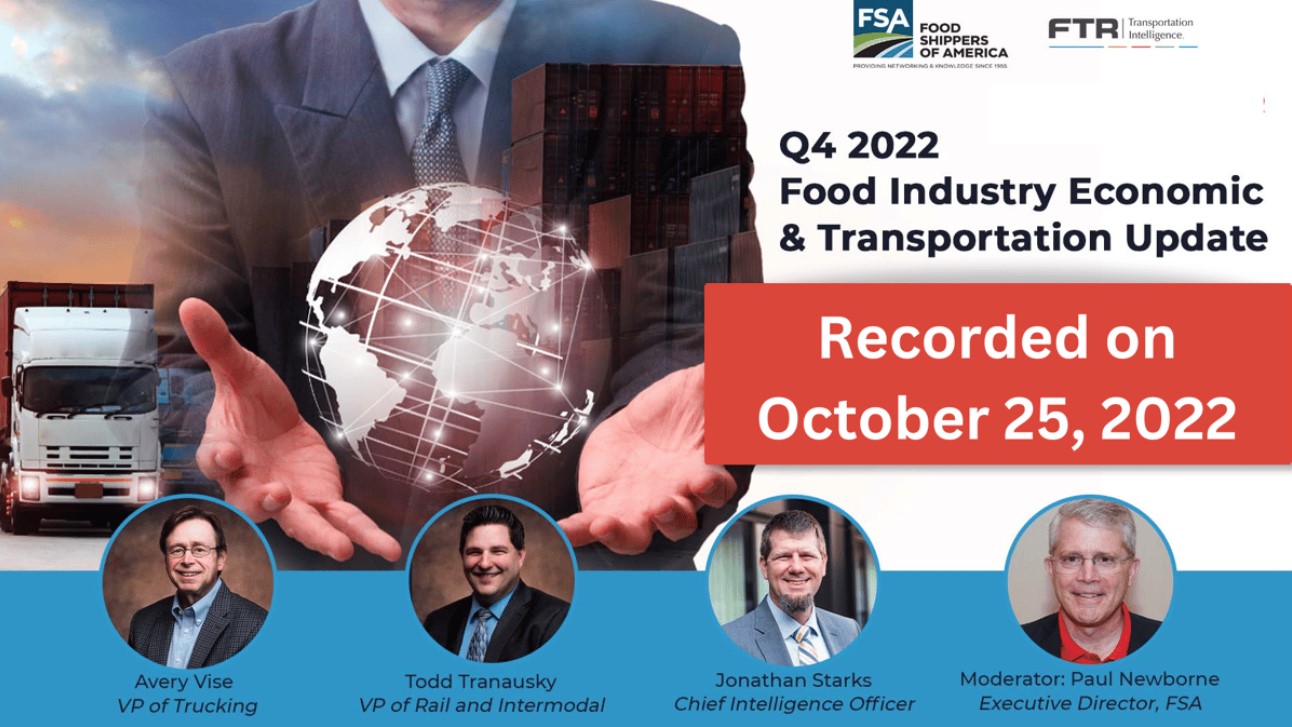 Food Shippers of America (FSA) collaborated with FTR Transportation Intelligence to recently bring a webinar on current transportation trends in the food and beverage industry. FTR is an industry source for transportation intelligence that adds more than 270 years of industry experience into business decision-making in the transportation industry.
The event covered many relevant topics, including food transportation, effects of the pandemic on the industry, and conditions in the domestic trucking and rail market segments.
"The Authorities" on Recent Food Chain Events
Moderated by Paul Newbourne, FSA's Executive Director, the webinar included the panelists:
Jonathan Starks, Chief Executive Officer, FTR. He has spent his entire career in the freight transportation sector having joined FTR in 2001. Starks' expertise includes freight modeling, modal analysis, fleet characteristics, and equipment demand. He is directly responsible for producing FTR's Freight-cast transportation model, producing more than 13 million datapoints and 85,000 forecasted items each and every month.


Avery Vise, Vice President of Trucking, FTR. He is FTR's chief analyst on trucking freight dynamics and principal author of FTR's Trucking Update service. He also is a major contributor to Shippers Update, Truck and Trailer Outlook, and Weekly Transportation Update and is host of FTR's weekly Trucking Market Update podcast.


Todd Tranausky, Vice President of Rail & Intermodal, FTR. He is responsible for providing commentary and data analysis and forecasts for the FTR freight focus reports: Intermodal Dash, Rail Update, and Shippers Update. He also plays a key role in producing the FTR Rail Equipment Outlook and Rail Closer Look Series.
Share of Food Tonnage by Mode
In particular, the panel discussed the overall volume trends by mode in the food and beverage marketplace.
Food products (heavily driven by truck) and farm products (rail). When you start looking by commodity, you get a little different assessment of the marketplace, according to Starks. "We look at it in two ways: First, you look at the amount of volume that is placed into the transportation systems."
In Q2 of 2022, the most significant volume of food and beverage by over-the-road trucking involved: beverage and flavorings (26%), grain mill products (19%), meat and poultry (13%), canned foods (11%) and dairy products (10%), according to Starks: "These commodities drive the bulk of food shipments by truck."
In contrast to trucking, he continues, the most significant volume of food and beverage by rail/intermodal involved: grain mill products (34%), beverages and flavorings (17%), sugar (7%), meat and poultry (5%), and canned foods (5%).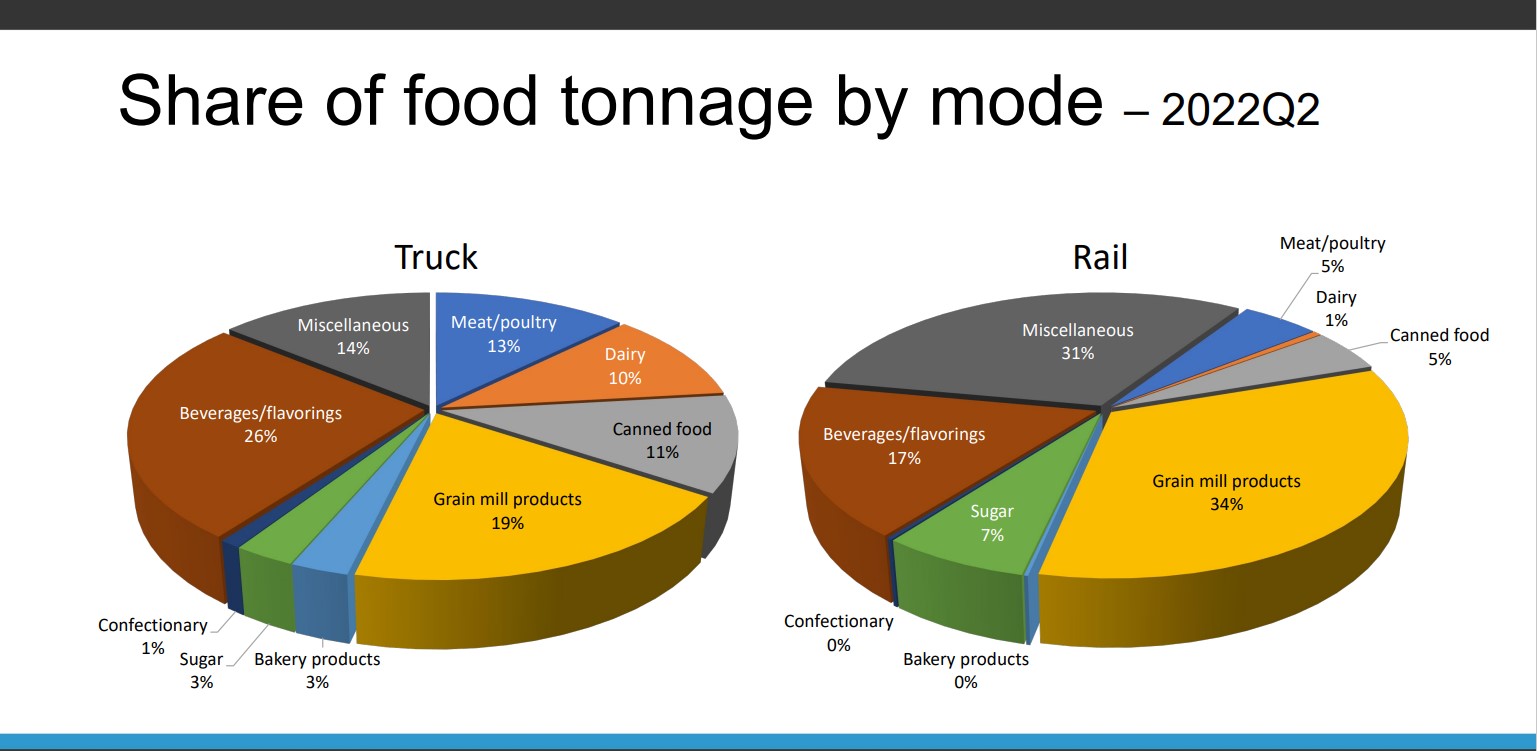 "So for example if you're going to have a lot of change in grain volumes, that's typically going to be more of a rail or waterway move that will have less of an impact on truck volume," says Starks.
Real Food & Beverage Spending
The food product tonnage dipped significantly in the spring of 2020 at the immediate start of the pandemic, but tonnage quickly came back and has remained strong, notes Starks. "More recently it's starting to stabilize but it's still operating at a pretty high level. Demand is still there."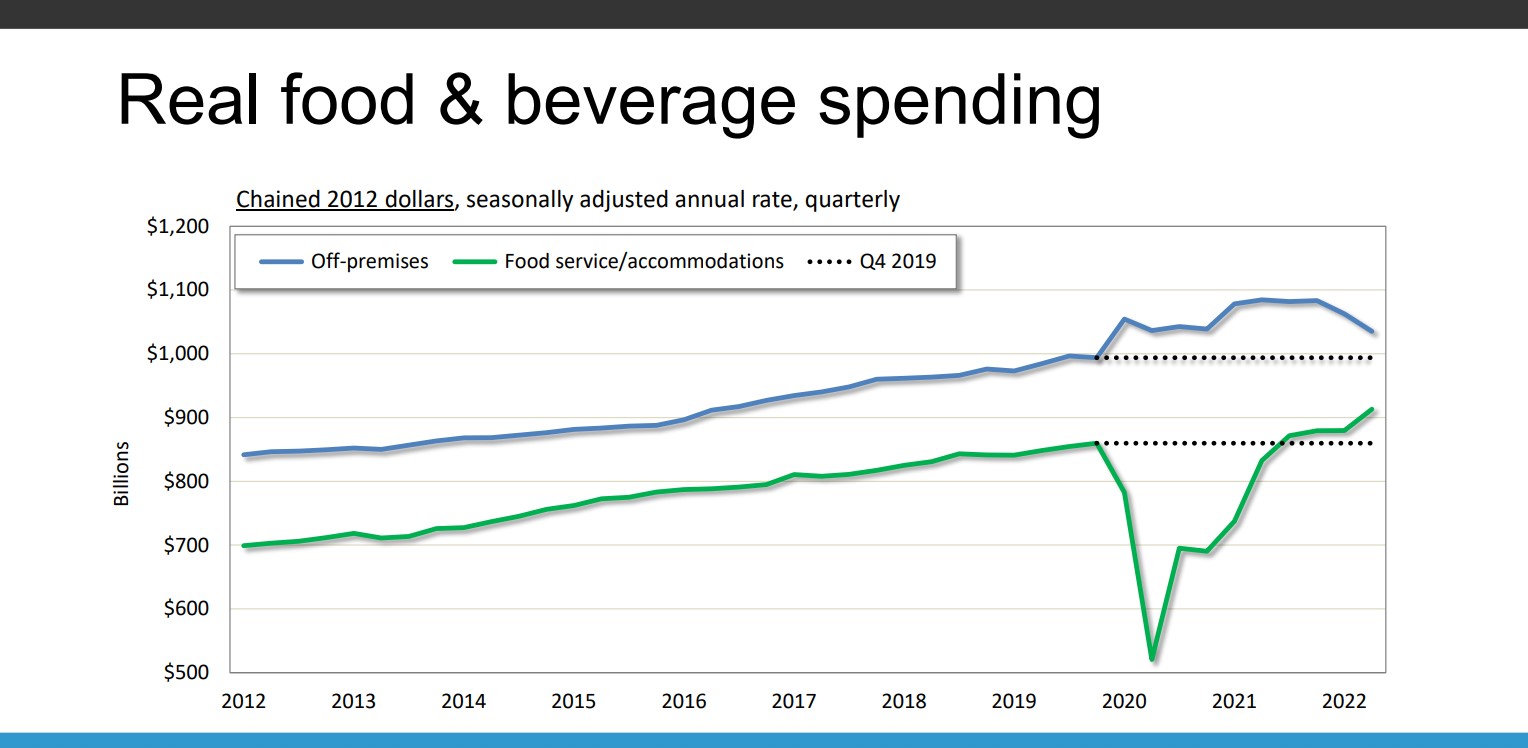 Vise then looked at specific economic data coming out of the pandemic. "One of the big shifts we've seen is where food is purchased" and cites off-premise consumption as an important representation of this shift, according to Vise. "In Q2 we saw a 2.6% decline in real spending (adjusting for inflation, which can dramatically impact our data)," he says. "Meanwhile food service and accommodations went up 3.8%."
He says there are two factors here: First, once the American public considered the pandemic to be largely behind it, we saw an increase in travel and restaurant activity, which naturally reduced consumption of food at home as well. The other element in play is inflation, which has increased tremendously in the food sector. However, inflation involving food-at-home is outpacing food-away-from-home by a substantial margin. We're basically at an 8.5% 12-month change for food-away-from-home but we're basically at 13% 12-month change for food-at-home. Therefore, many Americans probably are eating out – especially at lower-cost establishments – because it might be at least as affordable as cooking at home.
Interested in Viewing the On-Demand Webinar?
FSA brings this webinar to the industry at no cost. Just visit FoodShippers.org, then click "FSA Offers On-Demand Webinar: Transportation in F&B" under the "Announcements" tab.