Powerful Tornadoes Destroy Dozens of Factories and Warehouses Across 5 U.S. States
by Everstream | Contributed Content, on Dec 20, 2021 11:00:00 AM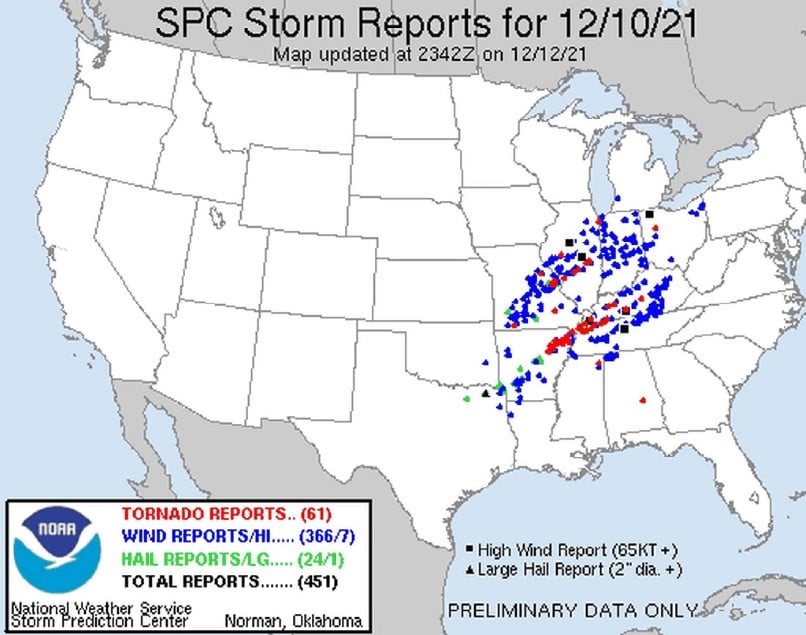 Dozens of powerful tornadoes have touched down in multiple areas across five midwestern and southern U.S. states on late December 10 and early December 11, causing more than 50 fatalities and damaging scores of businesses, including a General Motors assembly plant in Kentucky and an Amazon Fulfillment Center in Illinois.
Tornadoes are a common phenomenon in the central U.S. between the Rocky Mountains and the Appalachians, which provide a conducive environment for the formation of severe thunderstorms that at times produce tornadoes. This is due to its geography, with warm moist air from the Gulf of Mexico flowing northward and colliding with dry colder air moving from Canada and off the Rocky Mountains.
What is remarkable about the thunderstorms occurring on December 10-11 are mainly three aspects:
First, the time of year is unusual for tornadoes which typically develop in the spring and summer months.
Second, one of the tornadoes may be the longest-lived tornado on record, cutting a path of destruction across 250 miles (400 kilometers) in four U.S. states.
Third, the area of high risk of tornadoes may be expanding eastwards to also include the previously less affected Mississippi Valley area, where the outbreak of tornadoes occurred over the weekend.
MULTIPLE AUTOMOTIVE SUPPLIERS IN BOWLING GREEN AMONG WORST HIT
While the tornadoes have destroyed hundreds of homes across several U.S. states, the majority of industrial facilities having sustained significant impact were located in Mayfield as well as east of Bowling Green, Kentucky. Bowling Green is home to dozens of automotive manufacturing companies due to their close proximity to an assembly plant of General Motors.
More than 100 business have reportedly been damaged, including the General Motors plant and facilities located in Transpark, an industrial area northeast of the city. The TMS Automotive factory, a full service auto supplier, was entirely destroyed, while multiple other factories and warehouse in the area near Cosma Drive, Jody Richards Drive and Commonwealth Boulevard may also have been impacted.
The area is home to a number of automotive supplier facilities, including a subsidiary of one of the world's largest car parts suppliers Magna Inc., Bowling Green Metalforming. Other automotive facilities in the immediate surroundings include those belonging to Android Industries, Cannon Automotive Solutions, Shiloh Industries, Bilstein Group, Constellium Bowling Green and American Howa Kentucky, Inc.
In the western part of Kentucky, dozens of structures have completely collapsed and debris has been visible across the city of Mayfield, where the Mayfield Consumer Products factory – a candle
manufacturer - has been entirely destroyed, with dozens of employees still unaccounted for.
In southern Illinois, one unit of an Amazon Fulfilment Center in Edwardsville partially collapsed, causing several casualties. In the industrial area surrounding the affected facilities, multiple logistics
and consumer goods warehouses may also have sustained impact.
OUTLOOK
While all tornado warnings for the affected areas have been lifted, damage assessments are ongoing and further reports of damaged industrial facilities are likely to emerge over the coming days. Of
particular interest to supply chains are the affected industrial areas in Edwardsville, Illinois and Bowling Green, Kentucky due to the large concentration of automotive companies and consumer
goods warehouses.
Supply chain managers should identify whether they have key locations such as suppliers or warehouses within the affected areas and establish contact to assess operational damages and
their ability to deliver supply. Contingency plans regarding alternative sourcing and transportation should be activated in case of a location outage. Everstream Analytics' Intelligence Monitoring and Applied Meteorology capabilities enable organizations to enhance their supply chain visibility and provide early warnings as well as impact assessment for weather events such as tornadoes.