Recap: 67th Annual Food Shipper Conference
by Staff, on Mar 7, 2023 9:50:40 PM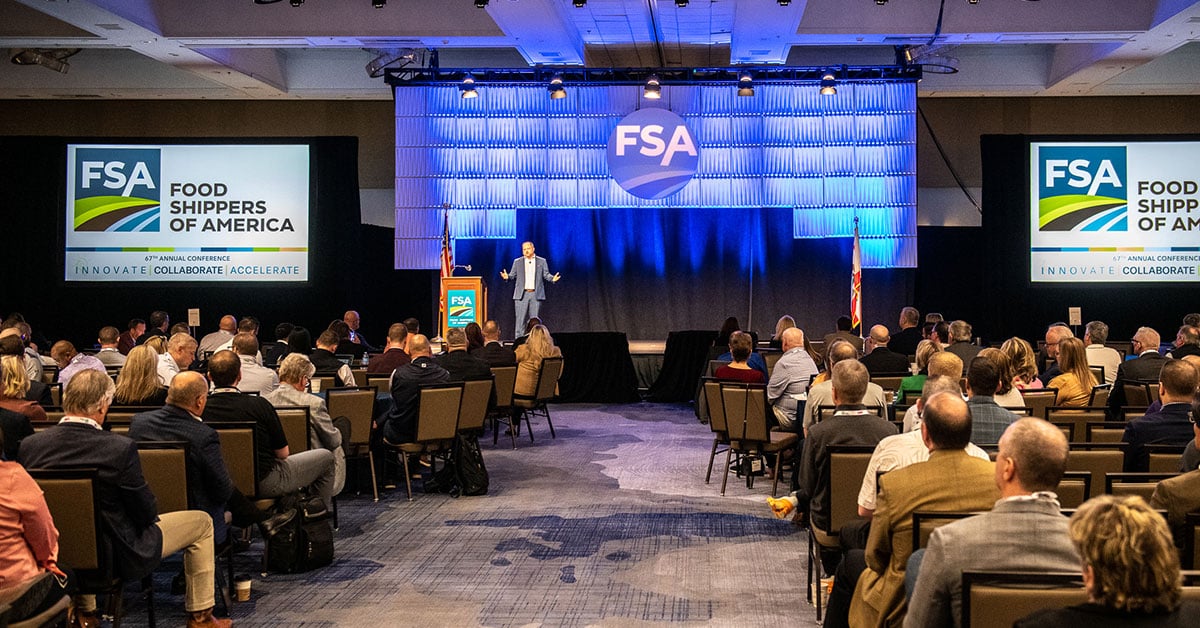 Nearly 1,400 professionals with supply chain responsibilities and/or interests in the food and beverage sector attended the 2023 Food Shippers Conference in Palm Desert, Calif. this week.
This week, nearly 1,400 professionals with responsibilities or interests in the food supply chain gathered in Palm Desert, Calif. at the J.W. Marriott Palm Desert Resort to network and discuss opportunities and challenges facing the industry.
The event kicked off with pre-conference activities on Sunday, March 5 that included a golf grab-and-go breakfast and a golf tournament shotgun start. Chair of the Golf Tournament Justin Allen, Sales Vice President of Andrus Transportation, announced the winners:
Palm Course:
First Place: 61 – Team 31 16A – Jason Ickert, Rochele Ickert, Mike Kandas and Aaron Pohle

Second Place: 63 – Team 4 2B – Stephan Mathis, Esteban Guijarro, Blake McLimans and Clyde Coleman

Third Place: 63 – Team 26 13B – Stephen Spires, Chris DeLeon, Marchant DeVilliers and Nate Wilson
Long Drive Hole # 1 – Jeff Paul
Long Drive Hole # 10 – No winner
Valley Course:
First Place: 58 – Team 24 12B – Chris Cnossen, Rob Cunningham, Aaron Galer and Lee Gallenstein

Second Place: 59 – Team 29 15A – Miles Villanuvea, Justin Pretzer, Chris Rager and Robert Moss

Third Place: 60 – Team 3 2A – Ed Burns, Brad Wright, Rick Lockwood and Zach Schuchart
Long Drive Hole # 10 – Brad Wright
Long Drive Hole # 11 – No winner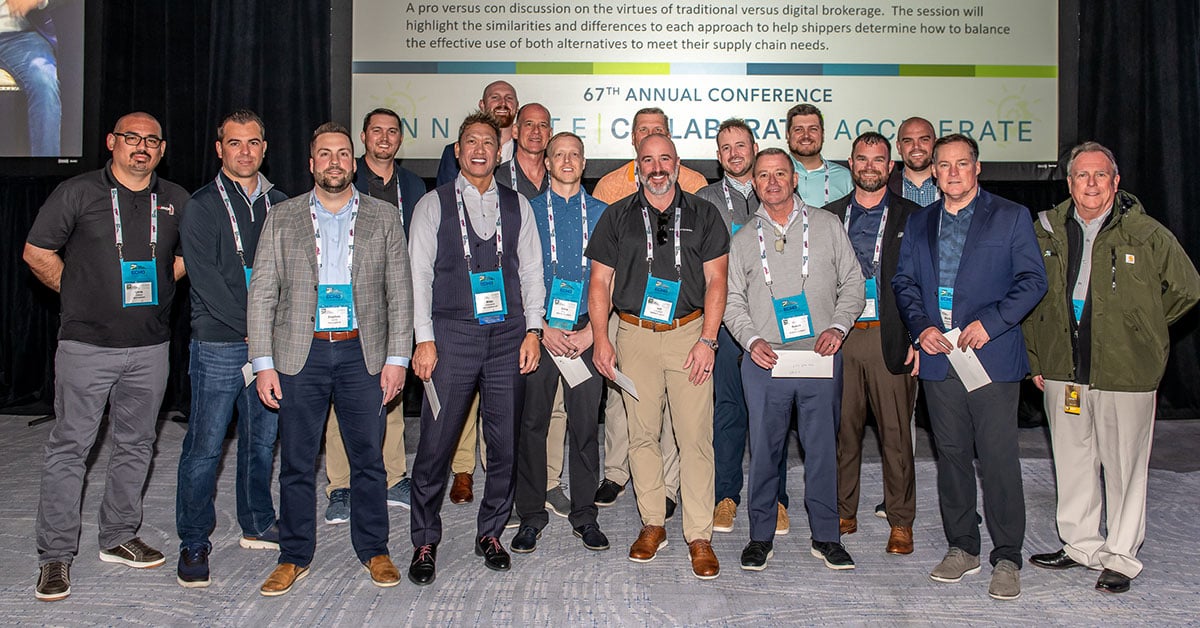 Strategic networking continued to happen that afternoon in designated meeting spaces and Kathy Fulton of the American Logistics Aid Network presented the "Disasters on the Silver Screen" workshop in a creative way to educate the industry about disasters and the role of ALAN while demonstrating how science fiction movies stack up against reality. In another session, Dustin Kohl, Head of Transportation and Sam Loesche, Head of Policy & Public Affairs at Waabi, an autonomous developer that is focused on trucking, updated attendees on the evolving commercial autonomous trucking landscape, regulatory environment, technologies and commercialization.
The conference then led into a number of educational sessions to address the unique opportunities and challenges facing supply chain professionals in the food industry.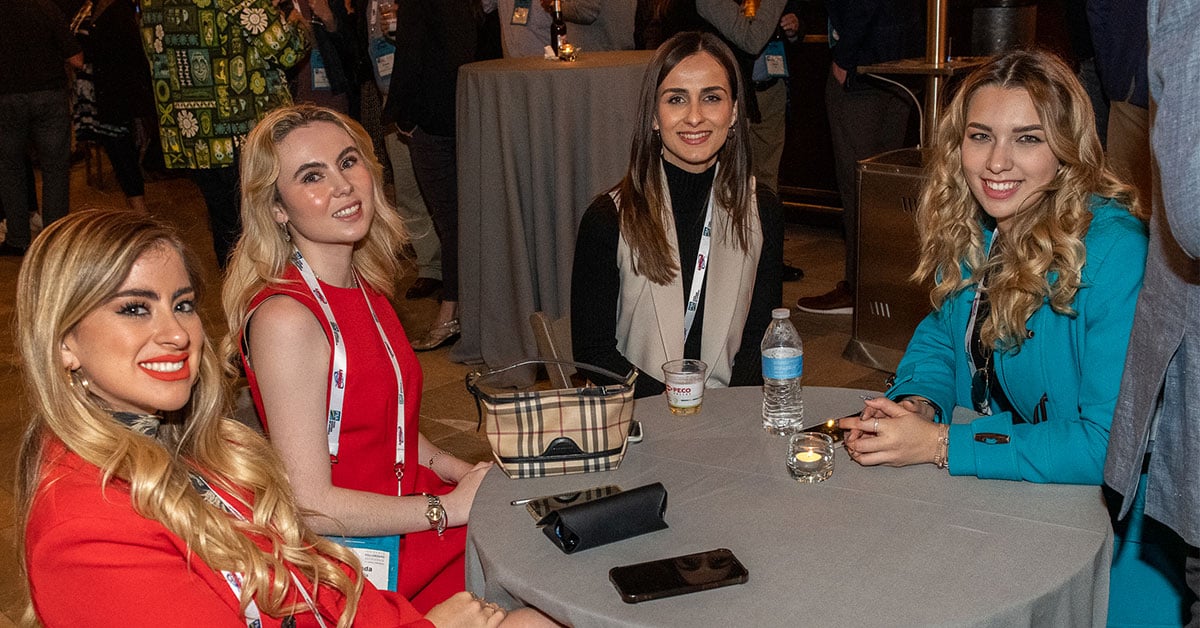 There were ample opportunities for supply chain professionals from all types of companies, ranging from food manufacturers to foodservice distributors, wholesalers and retailers.
Conference Highlights Major Challenges and Opportunities through Education
David Domencic, Director Transportation Procurement, ARMADA and President of FSA opened the 67th annual conference and thanked the 2023 Conference Co-Chairs (Mark Purdy, Sr. Manager Dry Transportation with General Mills and Craig Paulsen, Vice President at Schneider) for their hard work in putting together a relevant conference agenda. Steve Stein, Senior Manager Transportation with Danone North America also announced the recipients of the 2023 John J. Murphy Scholarships.
Opening the conference Monday morning was Keynote Daymond John, a businessman, investor, television personality, author and motivational speaker. John is well- known as the founder, president, CEO of FUBU and star from ABC's Shark Tank reality television show. He shared his philosophy and business practices that helped him achieve personal and professional success.
"If you aren't in charge of the goals that you set, you will let others set goals for you," said John. He then advised the audience to incorporate these five Shark Points into your everyday life:
S – Set a goal

H – Homework (Do your homework)

A – Amor (Love what you do)

R – Remember you are the brand

K – Keep swimming

Chris Caplice, Senior Research Scientist, MIT and DAT discussed how new technologies, emerging disruptive social trends, and constantly shifting economic and political landscapes are creating challenges (and opportunities) for food shippers.
Inclusion in the supply chain continues to be an important strategic discussion in the food industry. In fact, innovation starts with inclusion, according to presenter Shelley Simpson, President of J.B. Hunt. In fact, the introduction of new ideas, the exposure to differing perspectives and the collaboration among diverse identities is a bridge to new opportunities. A culture of inclusion expands beyond just one way of thinking and attracts a workforce ready to disrupt and adapt. Simpson discussed the future of inclusion in supply chain and learn more about how companies can invest in programs that drive innovation, acceleration, and growth.
"Inclusion is a culture where all people feel welcomed, valued, respected, safe and heard," said Simpson. She also pointed out that in the current workforce, drivers are 8% female and 46% people of color, office is 39% female and 34% people of color, and shop are warehouse is 6% female and 32% people of color.
Additional interesting take-away: Post-COVID, the industry has seen a 7% increase in high school graduation rates and a 7% decline in 3-year college enrollment.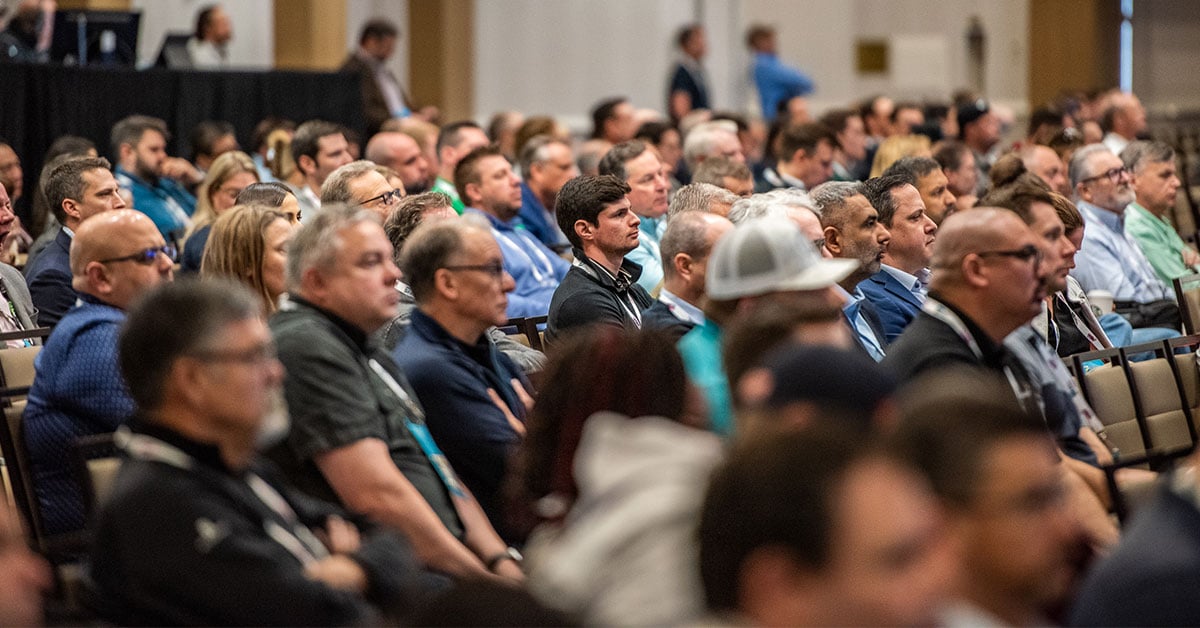 Tracy Rosser, a well-known supply chain consultant, provided valuable insights into key technologies that enable data visibility through new transparent platforms, and connectivity and integration technologies.
"Data is king," Rosser reminded the audience. Everybody's business is different, but we're all similar in many ways, Rosser continued. You need to have a deep understanding of the anatomy of your business and your gaps to perfection because no one is perfect. Most importantly, you need to get current with your technology. There are benefits to both insourcing and outsourcing and it mainly depends on where you are as an organization, but being current is vital and as a result, you will be able to better serve your customers. Develop a technological path to the future and align with the right, proven partners, as well as gaining the value from gathering the data and the analytics around it.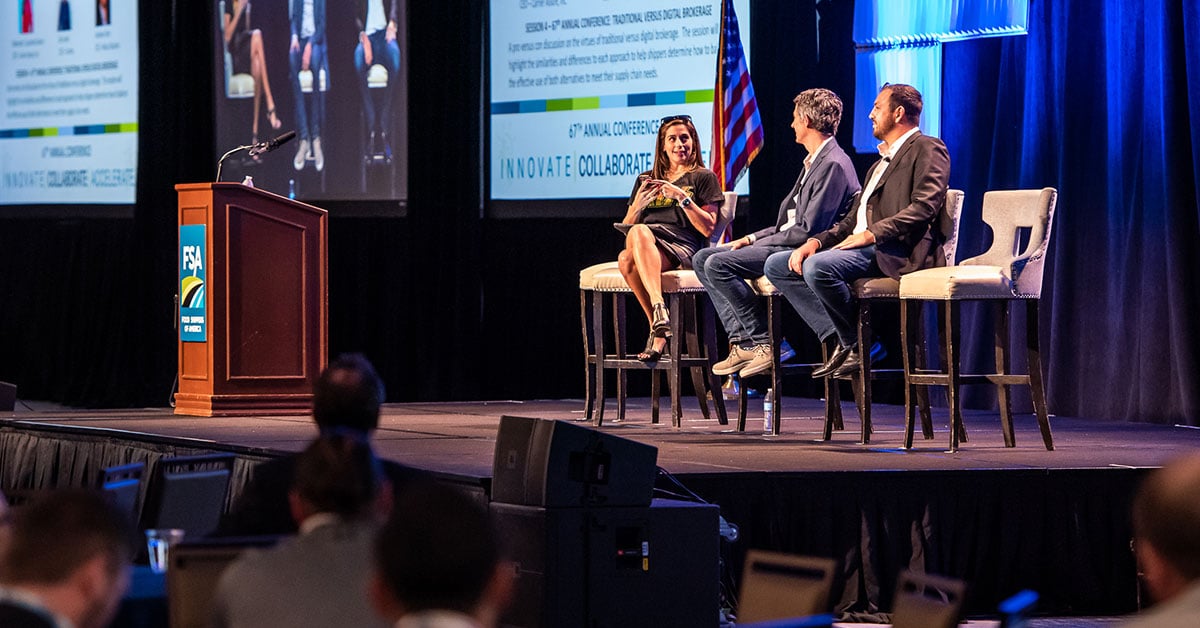 Panelists of the Traditional Versus Digital Brokerage session featured Dan Lewis, CEO, Convoy; and Andrew Silver, CEO, MoLo Solutions
A panel of executives discussed the pros and cons of traditional versus digital brokerage, and highlighted the similarities and differences to each approach to help shippers determine how to balance the effective use of both alternatives to meet their supply chain needs.
When called to the stage for a shipper's perspective, Mark Purdy of General Mills was asked what shippers care about. His response: Ease of business, technology, level of transparency, driver feedback, facility rankings, and how they can be more driver friendly. All parties will get the job done together. Better to match up freight characteristics with each of the provider's strategies.
More Great Content on Tuesday
Opening Keynote NFL Player and Super Bowl Champion Andrew Whitworth, talked about his success in the NFL, being the oldest tackle in NFL history, and oldest offensive lineman to win a Super Bowl and how the principles that guided him can be used every day in for business and personal success. Whitworth was named the 2021 Walter Payton NFL man of the year, and discussed the importance of giving back to the community.
"Hope is a positive outlook, but vision is a declared future," said Whitworth. He continued: "To me, the greatest form of leadership is that if I walk out that door and we don't know what's on the other side, I'm the person you want to stand up and walk through that door with. It doesn't matter what I say, it's about who I am, it's about what you see, and it's about what you believe in and the way that they live their life and the way they treat people around them regardless of their status."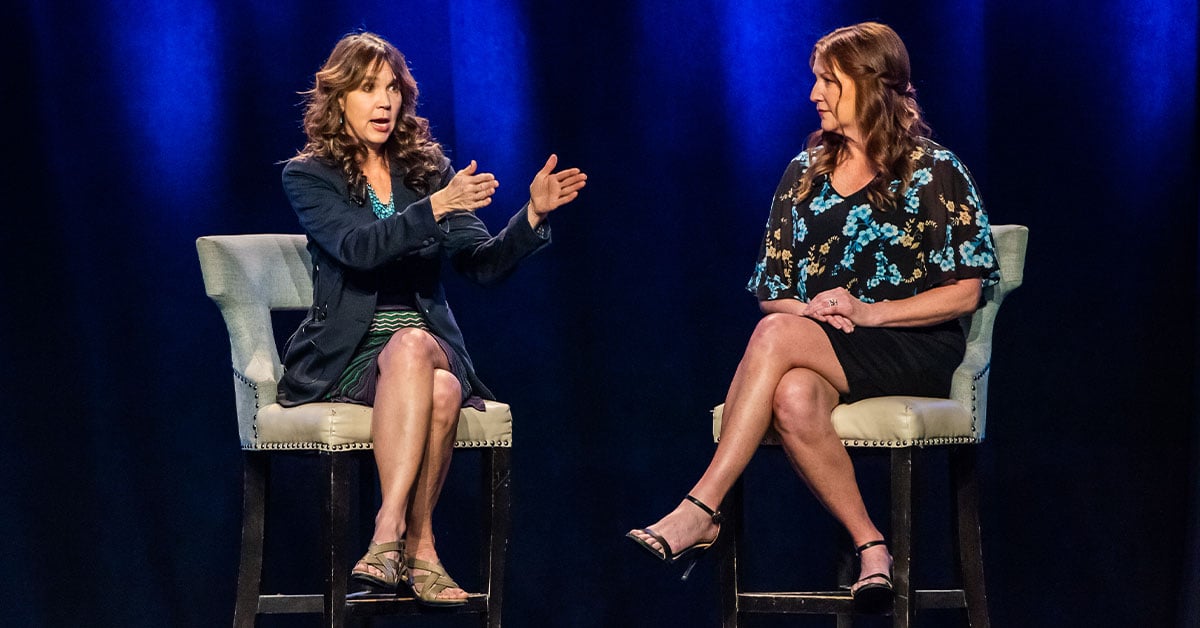 Ethel "Stephanie" Stuckey, CEO, Stuckey's Corporation and Darica Schneider, Director of Transportation Operations, Univar Solutions
In another session, attendees followed the unlikely journey of Stephanie Stuckey who stepped away from her career as a lawyer, the House of Representatives and Director of Sustainability and Chief Resilience Officer in Atlanta, Ga. to buy her family's old company back and rebrand the roadside oasis, Stuckey's. Board member, Darica Schneider, sat down with this "accidental CEO" and navigate through the New Great American Road Trip to learn how Stuckey has taken this reinvented icon from rags to riches amid economic hard times through innovation, collaboration, and incredible acceleration.
"Failure is the biggest and best teacher," said Ethel "Stephanie" Stuckey, CEO, Stuckey's Corporation. She believes that in order to gain business you need to have an online presence. In fact, due to lack of budget, all Stuckey's marketing and branding is done through social media, with the largest and most active platform being LinkedIn where she currently has more than 115,000 followers. Every account Stuckey's has obtained has been through LinkedIn connections.
The conference closed with Bob Costello, Chief Economist and Senior Vice President of the American Trucking Associations, presented current economic data and its effects throughout the supply chain. Costello offered up some macro thoughts and outlook perspectives:
2023 mild recession is the likely path, but timing is tricky – especially with continued strength in services and the labor market
Any macro recession should be short and shallow
A soft landing is not out of the question.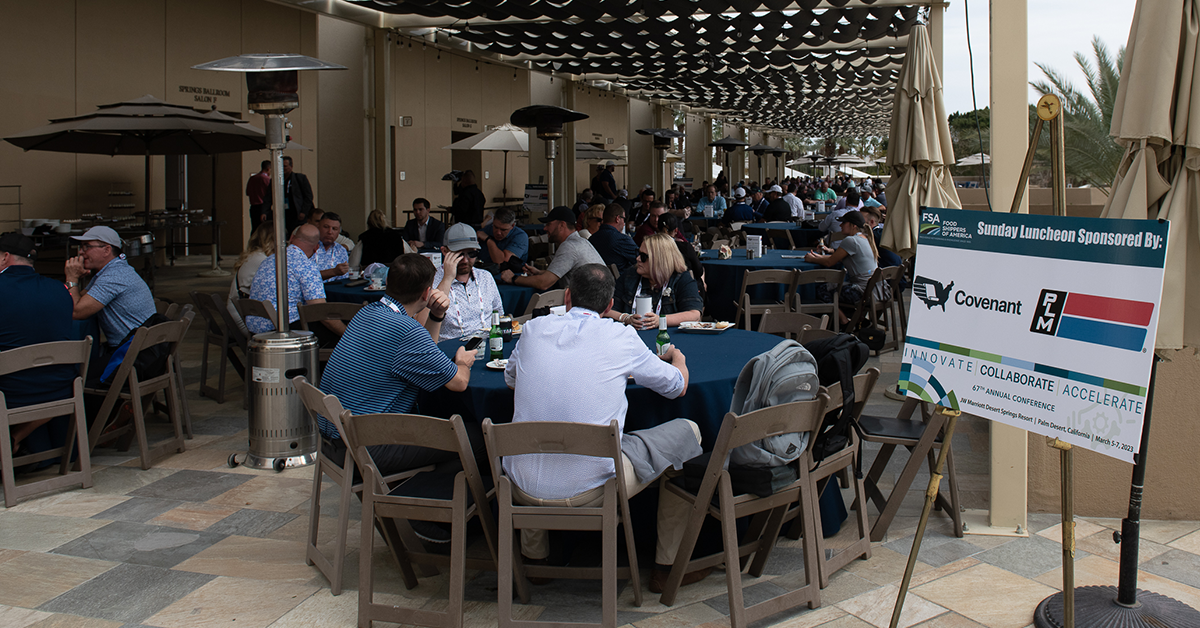 Unique Networking for Food Chain Pros
Strategic networking between food shippers and providers took place throughout Sunday – and continued throughout the conference. In addition, the 7th Annual Sisters within the Supply Chain Afternoon Tea took place on Sunday, which provided a unique opportunity for women in the industry to come together and network.
Later Sunday afternoon, FSA hosted a reception for first-time attendee, which was sponsored by PLS Logistics Services. Then food shippers and providers met that evening during a Welcome Reception, followed by a Welcome Buffet Dinner. On Monday evening the annual banquet and a dessert reception took place.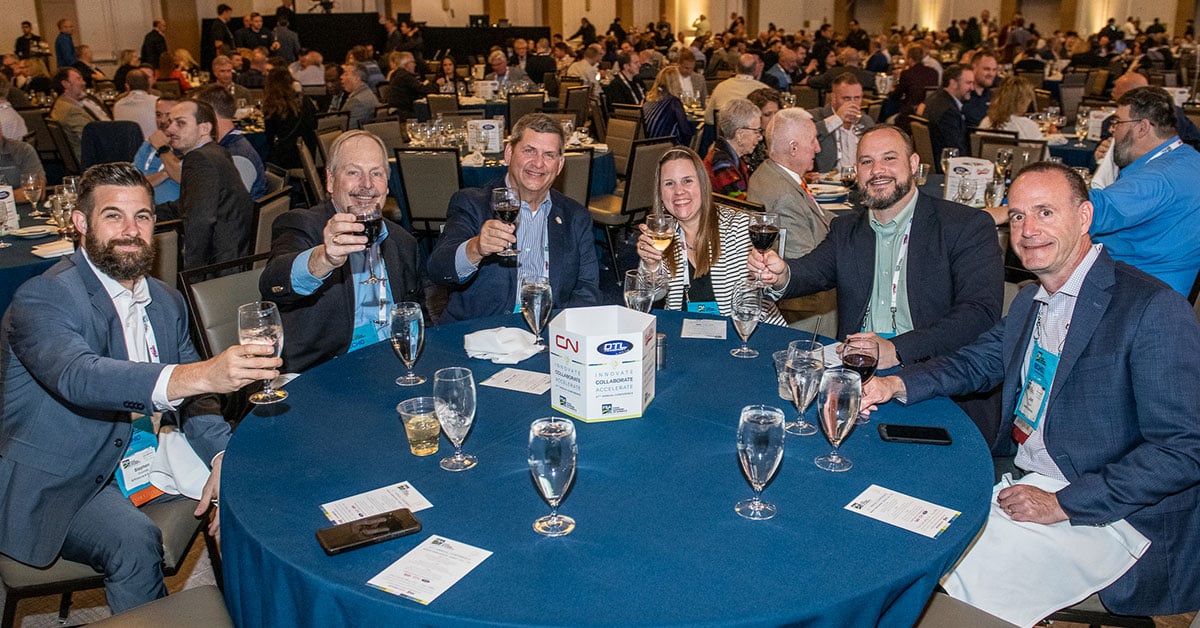 Cheers! Hundreds of conference attendees took part in the banquet Monday evening – a great opportunity to connect with old friends and new.
"This year's conference was an incredible opportunity to connect with others who are responsible for transportation, warehousing, e-commerce, and other supply chain functions," said one shipper. "The networking and content were tremendously valuable."
Like this kind of content? Subscribe to our "Food For Thought" eNewsletter!

Now more than ever, professionals consume info on the go. Distributed twice monthly, our "Food For Thought" e-newsletter allows readers to stay informed about timely and relevant industry topics and FSA news whether they're in the office or on the road. Topics range from capacity, rates and supply chain disruption to multimodal transportation strategy, leveraging technology, and talent management and retention. Learn More