Russia's Invasion of Ukraine: Impact on Food Chains Worldwide
by Staff, on Mar 3, 2022 11:29:41 PM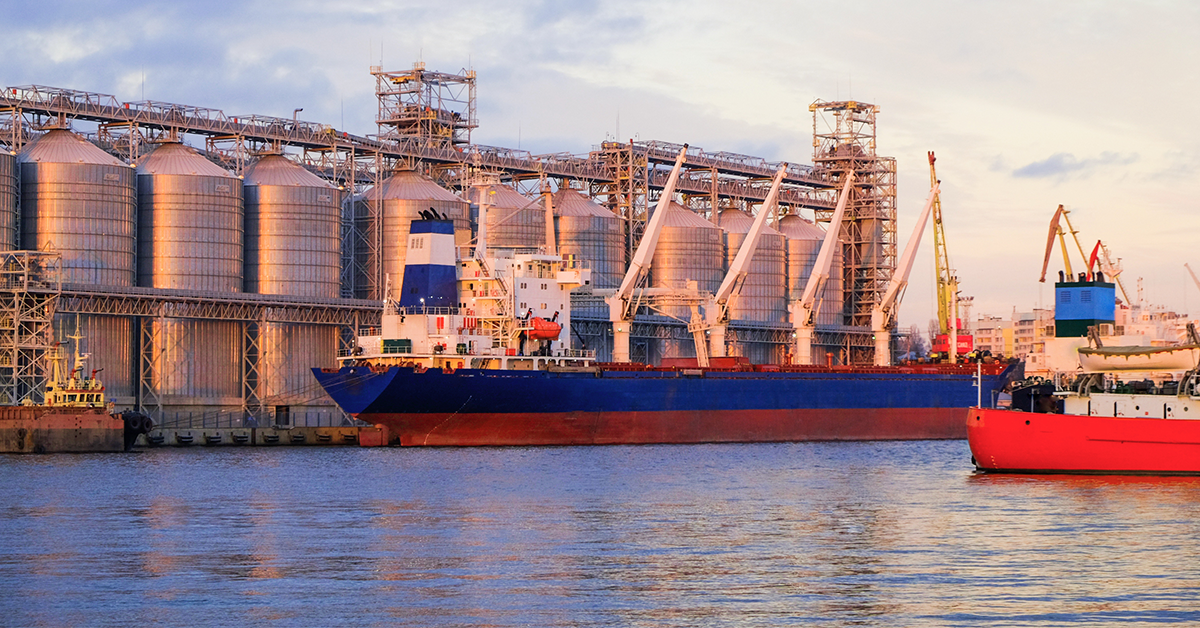 On Feb 24, a nation's nightmare came true when Russian tanks and troops crossed Ukraine's eastern border and charged towards Kiev. The Russian invasion of Ukraine, seen by many as the most serious land invasion in Europe since World War II, has already claimed thousands of lives and devastated a nation of 40 million - while potentially disrupting an already frazzled global food chain.
The unfolding crisis in the Ukraine has caused major disruption of commodity markets and is threatening global food security. Though the U.S. domestic logistics industry remains somewhat insulated from the flow of goods and materials internationally, Ukraine and Russia represent major global players in food supplies that will likely increase inflation and cause pain points for some U.S.-based global enterprises.
Here's how Russia's invasion can have a dramatic impact on food chains domestically and abroad.
Disruption of Food Ingredients
Russia and Ukraine are top origins of food ingredients. For example, the two countries account for approximately a quarter of grains trade, according to International Grains Council. They are among the top five international exporters for many important cereals and oilseeds such as wheat, sunflowers and corn, according to the U.S. Department of Agriculture (USDA). Ukraine accounts for 16 percent of global corn exports and 12 percent of whet exports.
In addition, Ukraine produces 50 percent of the world's sunflower seed oil, and coupled with Russia meets more than 50 percent of the cereal needs for North Africa and the Middle East, according to the International Food Policy Research Institute (IFPRI).
Below is a chart the demonstrates Ukraine's and Russia's share of global trade 2018-20 in major agricultural products, according to COMTRADE.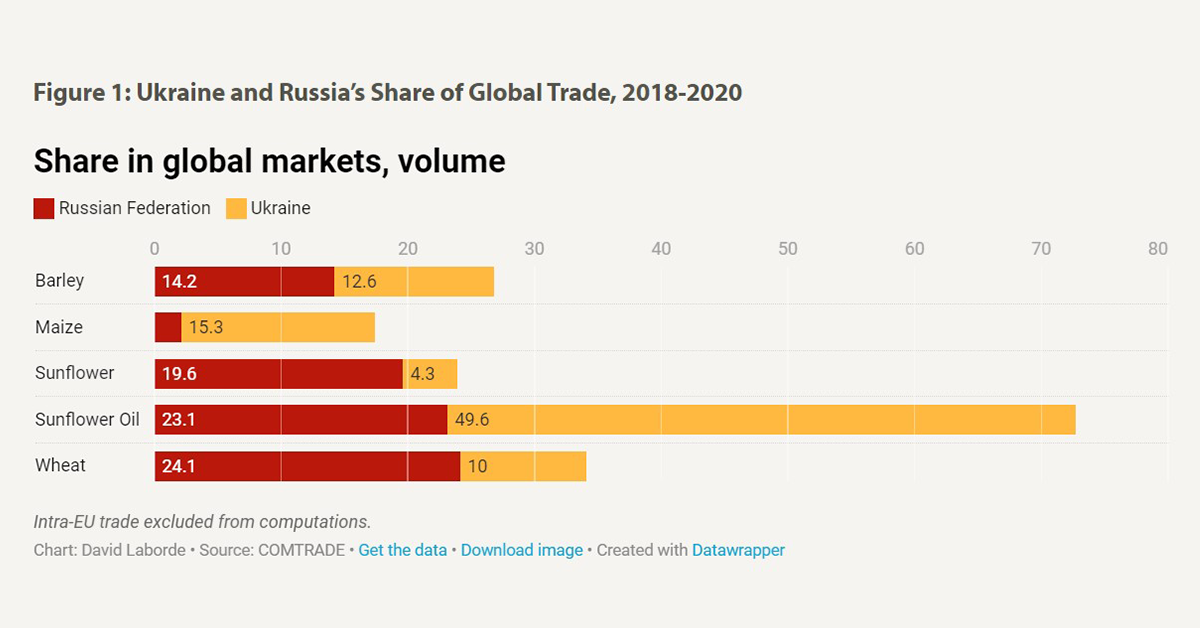 While Ukranian ports and airspace remained mostly closed, wheat futures jumped to their highest levels since 2008 before settling back down 4 percent to $8.98 a bushel. International food companies like Kellogg's, Coca-Cola, and Pepsi have already warned of double-digit inflation taking food prices higher, according to TRT World.
Impact on Domestic Logistics
Will the conflict have an impact on domestic supply chain activities? Yes, of course – particularly involving domestic over-the-road trucking. Firstly, you can expect inflation pain points to continue to weaken real wages for workers – and this will have a significant impact on an already stressed workforce in America. Despite fleets significantly increasing pay for professional truck drivers, , those paychecks likely won't go as far at the grocery store or within sectors that really drive Consumer Price Inflation, like used cars and housing. Conveniently, CCJ has also written about how best to offset the rising costs of driver compensation.
The conflict also is impacting capacity. Shipping giants like Maersk have responded by suspending container shipping to and from Russia and industry observers are saying ocean shipping rates will substantially increase. FedEx and UPS have halted shipments to the country. With the Ukraine crisis creating another supply chain shake-up in an already chaotic logistics industry, may predict it will likely continue to exacerbate an already disrupted trucking industry in the U.S.
Fuel Prices Expected to Continue to Rise
In the immediate aftermath of Russia's invasion of Ukraine, both West Texas Intermediate and Brent crude futures increased to more than $100 barrel for the first time since 2014. Industry analysts now are predicting a price of $125 per barrel and a long stretch of continued price increases for diesel fuel.
The higher oil prices directly translate to higher diesel prices, as they have in recent months. The U.S. Energy Information Administration reported U.S. diesel prices were $4.104 per gallon, up 4.9 cents in a week, and $1.032 from a year before. Diesel prices likely will increase as Russia and Ukraine continue to fight, and as oil companies pull business from Russia - the third-largest oil producer in the world (after the United States and Saudi Arabia).
Fuel is the second-largest expense for for-hire and private fleet of food companies (after driver wages). Fuel costs a truck 43.3 cents per mile, or about 24 percent of a truck's expenses, according to the American Transportation Research Institute.
Like this kind of content? Subscribe to our "Food For Thought" eNewsletter!

Now more than ever, professionals consume info on the go. Distributed twice monthly, our "Food For Thought" e-newsletter allows readers to stay informed about timely and relevant industry topics and FSA news whether they're in the office or on the road. Topics range from capacity, rates and supply chain disruption to multimodal transportation strategy, leveraging technology, and talent management and retention. Learn More