Sensationally Sweet with Jody's Popcorn
by Bahr Transportation | Sponsored Content, on Jan 11, 2022 7:29:26 PM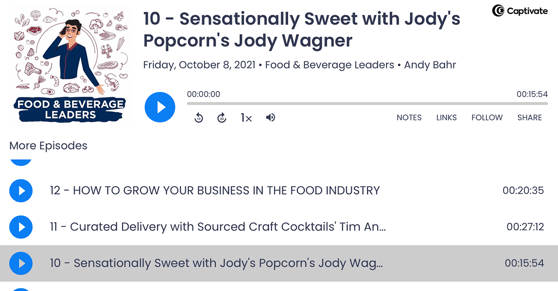 Food and Beverage Leaders Podcast Host Andy Bahr learned a bit more about popcorn after sitting down with Jody's Popcorn President Jody Wagner. Bahr and Wagner discussed the history behind the gourmet popcorn company, and how the business was able to stay alive throughout the COVID-19 pandemic.
Wagner said she's always had a love for popcorn. She would take strolls in downtown Chicago with her husband just to grab a bag during their date nights. During a visit to Virginia Beach, Wagner was seemingly appalled by the area not having a place to buy good caramel corn. At that point, her husband said if she felt that passionate about the snack, she should do something about it.
From then on, it was Wagner's mission to create and sell the perfect tasting caramel corn. During her time as a lawyer, she worked with a man who had a connection to theme parks and resorts. He invited her to come to a park in Orlando, Florida to meet the company that made the equipment for making gourmet popcorn.
"I told them what I wanted it to taste like, and they said oh no problem. Just add an extra stick of butter to our mix and it'll taste just like it," Wagner said. "Came back, tried it, put a popper and a carmelizer in the garage while we were building the store up, made the first batch…did not taste anything like I wanted it to taste."
With a little backtracking, and her husband taking the reins with his degree in food and sensory smell, they eventually made it through more than 50 iterations of the caramel corn before reaching Recipe 53. Wagner said it is still their number one seller to this day.
"We used to take…recipe 40 and 41 to one child's baseball game and 43 44 to a volleyball game," she said. "And everybody would comment and when we got to 53 people said, 'This is fabulous. Don't change a thing.' So that's how we ended up with recipe 53 caramel corn."
For several years, Wagner worked on Jody's Popcorn as a side business while her main career developed. She was working for the governor of Virginia when she realized the popcorn business had grown so much that she had to give it full-time attention.
"We were beginning to grow in certain ways, and we weren't necessarily growing smartly," Wagner said. "So I decided to spend most of my time doing popcorn and I'm doing it today. It's still very much a 40 or 50-hour a week job."
When Bahr asked Wagner how the company went from a couple of hundred people saying the product is good to mass production, Wagner said there was definitely a learning curve. In fact, the first time someone asked her how many bags of her popcorn could fit on a pallet she had no idea. She had yet to learn what a pallet was and how it would lead to a successful transition from selling only retail to also selling wholesale.
"I'd never shipped or bought stuff on a pallet," Wagner said. "We now ship pallets out all the time. We are sort of expecting [customers] to order pallet quantities unless they're in a gift industry. Then we expect smaller quantities."
Wagner mentioned one of the biggest challenges while growing the business was pivoting from thinking small to doing mass production of large quantities in the same flavor. The biggest challenge the company has faced recently is the COVID-19 pandemic, which led to the closure of the Jody's Popcorn retail store in Virginia Beach.
"All the small retail shops that we sold to shut down and all the larger stores except for grocery shut down," she said. "So we had 72 pounds of product in our warehouse that did not get picked up by the purchasers. We had to figure out what to do with that because it was going to age out. And we held it for a while, but it became clear the COVID closures were going to be ongoing. We ultimately had to sell it to overstock companies."
Wagner said the company did have to cease production for a small period of time. Eventually, orders started to pick back up and they are back to full production. She said COVID-19 protocols are in place for their warehouse employees to ensure their health and safety.
Today, Jody's Popcorn offers a large variety of flavors and Wagner said the company has come out with several new ones including Nacho, Lemon Pepper Olive Oil, and two other flavors to be announced soon.
Bahr asked about surveying and how the company knows which flavors will work in the marketplace. Wagner said new recipes are made in their lab and are first tested internally. Then, being the mastermind behind the original Recipe 53 caramel corn, her husband tests the flavor and offers his feedback. It is then shipped to retail stores and is tested with customers to make sure they like it.
Wagner said Jody's Popcorn is now mostly a wholesale company, but it still runs a retail website at jodyspopcorn.com. Those looking to purchase popcorn in bulk can visit jodyswholesale.com. Anyone interested in reaching out to Jody to discuss selling products in the food industry space can contact her at jody@jodyspopcorn.com.