Curated Delivery with Sourced Craft Cocktails
by Bahr Transportation | Sponsored Content, on Jan 26, 2022 7:00:00 AM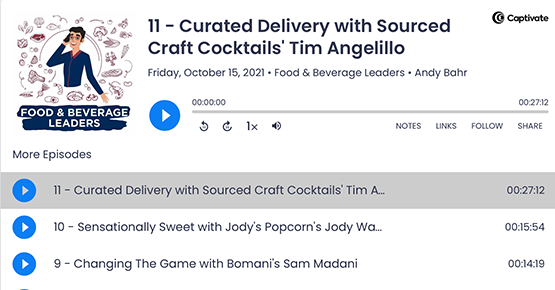 Food and Beverage Leaders Podcast Host Andy Bahr talked with Tim Angelillo, chief executive officer of Sourced Craft Cocktails, to get a better understanding of how the curated cocktail service grew to become an essential delivery operation during the COVID-19 pandemic.
Angelillo said Sourced, which launched in October 2015, is the largest craft cocktail delivery business in the United States. The business saw significant growth in the last few years due to the pandemic causing a surging increase in alcohol delivery deman
"As you could imagine, in the middle of a pandemic, with all of us stuck at home and most of our favorite watering holes, meaning bars, closed by order of the state governor, we delivered a lot of cocktail kits," Angelillo said.
He said Sourced is living at the intersection of mobile convenience and curated trial. The company is working to provide the best legally-compliant solution to modernizing the original 1933 three-tiered system for alcohol distribution.
Angelillo agreed with Bahr who described Sourced as the Uber of cocktails. Angelillo said when you take a closer look, the alcohol industry is a fascinating business that is also recession-proof. He even discovered historical data confirming that people drink more during economic declines.
"Over the last 100 years, there have been 13 economic declines and in every single one of them, the amount of alcohol that got enjoyed in a bad economy was more than the year prior," he said. "World War, no problem. Alcohol went up. Oil and gas crisis with Iran. No problem. Alcohol consumption went up. Great Recession. Went up. How about a pandemic. It closed half the marketplace, right? Literally, restaurants and bars, by order of state governors, closed in 2020…to keep everyone safe and keep them at home. So clearly, it couldn't have grown with half of the distribution points that are traditional. Nope, it grew by 14 percent. U.S. consumers by double-digit growth enjoyed 14 percent more ounces of alcohol in 2020 than 2019."
He said mentioning Uber was a great reference since the ride-sharing company just purchased the alcohol delivery service Drizly for $1.1 billion. Angelillo said what makes Sourced different than its competitors is that it serves a different market that doesn't just get the bottle, but what he calls "the entire cocktail experience."
"The way we think about it is there's Kohl's, and there's Saks Fifth Avenue," Angelillo said. "Kohl's is a perfectly fine place to shop. It's just not Saks Fifth Avenue. And we're serving that Saks Fifth Avenue consumer, more affluent and a little bit older. And we're serving a Saks Fifth Avenue experience where it's extremely curated and flawless to the nth degree."
He said Sourced views their customers' time as their most valuable resource, and pointed out that time is truly the one thing in life you can not buy more of when you want it.
"That's really what Sourced is built for," Angelillo said. "It's built to be able to deliver you mobile convenience right from your phone to your door. You don't have to go to three different stores. You don't have to squeeze the lemons by yourself…you shouldn't settle."
Angelillo said all orders placed are fresh and made-to-order, prepared in the customers' market by a mixologist in a commercial kitchen. Orders placed by 2 p.m. will arrive at customers' doors between 4 p.m. and 8 p.m. the same day. He said Sourced is currently available in Los Angeles, San Francisco, Chicago, Austin, Dallas, New York, and Miami.
Angelillo pointed out that Sourced has also found its way to being a big helper to corporate and wealth management industry leaders entertaining clients. With the pandemic pushing business people to be more cautious with getting together face-to-face for client meetings, Sourced created a way to bring professionals together and still enjoy a special beverage. All while having a real mixologist share facts about the drink of choice to loosen up the group.
"In a world where corporate travel isn't as prevalent, and in a world where that wealth management client might not be comfortable physically gathering with somebody outside of their immediate bubble, we're creating these educational segments where we'll take a category like bourbon…distribute an old fashioned kit with multiple kinds of very high end bourbon…everyone will jump on Zoom, which we'll get face time with his or her clients," Angelillo said.
He said the kits push Sourced's agenda to educate its target audience on the differences in types of liquor, how they are made, how the different flavors are derived from plants, and more.
"We're constantly educating people trying to create the opportunity that we're still having an experience that's unique…even while being remote and virtual, as we hope to all conclude the pandemic," Angelillo said.
He said in 2020, Sourced helped service 2,314 companies across the country to either create relationships with employees or with their customers. Sourced calculated a generation of $1.75 million in shift labor fee for bartenders receiving approximately $20 to $30 per hour delivering their cocktail kits to Fortune 100 companies' employee bases across the U.S.
Angelillo explained that Sourced also offers an enterprise product for flex workers, or employees splitting their weekly work hours between the office and home. For the evenings where workers are stuck in conference rooms for lengthy meetings, after wrapping up they can bring out the Sourced on Tap Draft Cocktail machine and pour everyone an individual cocktail.
"This is the word that keeps coming up over and over again.," he said. "Employees don't want to feel forced to go back to the office. So the reality is then I need, as the employer, to give you a reason to feel like there was added value at the office. Having a cocktail and getting to know your colleagues socially after the business meeting is a reason to do it. It's a great way to create retainment."
Click here to access the episode
To learn more about Sourced Craft Cocktails, visit sourcedcraftcocktails.com or reach out to Tim Angelillo at tim@sourcedcraftcocktails.com.
About Sourced Craft Cocktails
Sourced wants to create memorable moments with co-workers, friends and loved ones, during the COVID-19 pandemic crisis. Sourced works with its partners in the hospitality industry and bartenders who have helped us deliver 3.5 million cocktails over the last 4 years, recognizing their current risk of having no earning potential with bar closures across America. The company's mission is to support them and help them earn a livable wage by putting them back to work, delivering cocktails to consumers homes. Tim Angelillo is the chief executive officer.