The Snack Industry with Mary's Gone Crackers' Carla King
by Bahr Transportation | Sponsored Content, on Feb 23, 2022 11:34:22 AM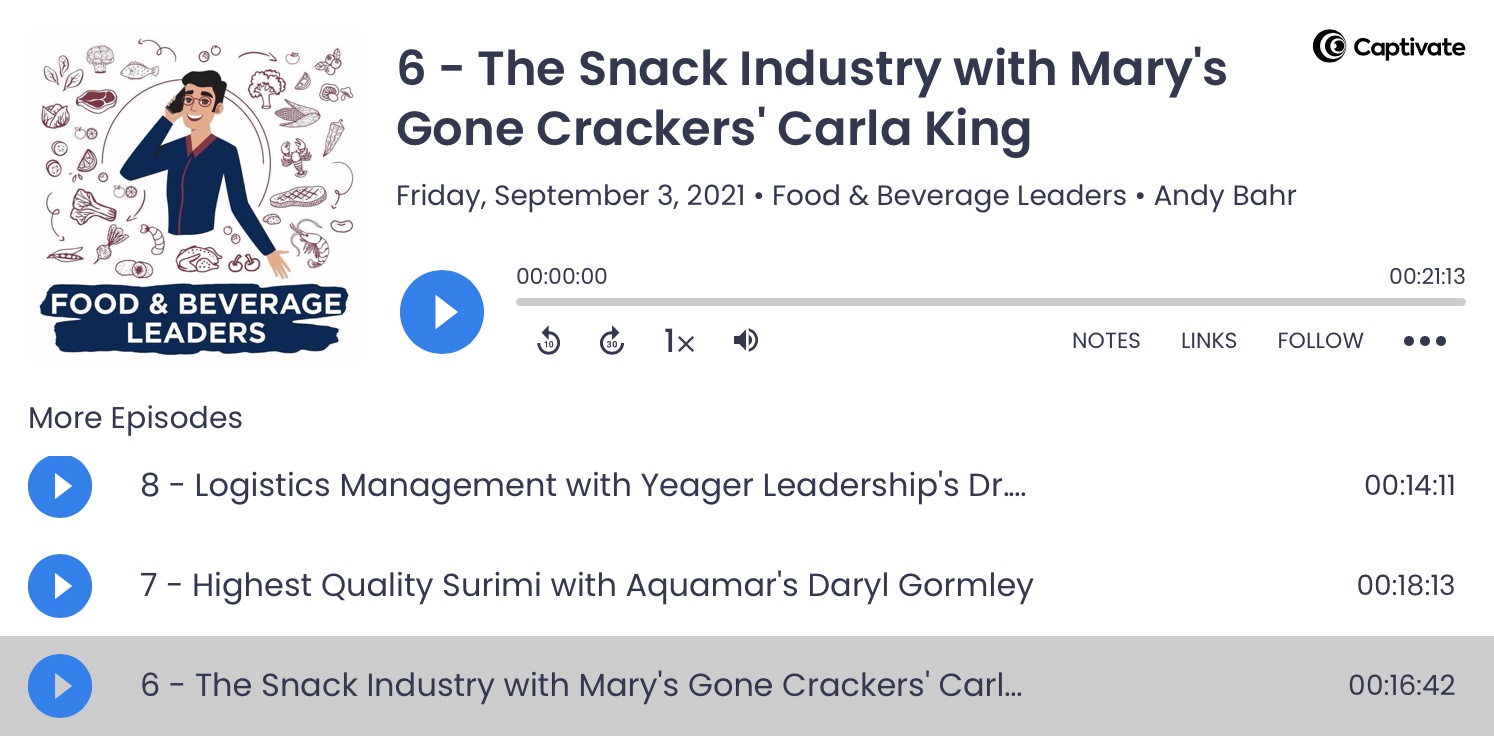 Host Andy Bahr interviews Carla King, Sr. Marketing Manager for Mary's Gone Crackers. Mary's Gone Crackers is a healthy snack food company that focuses on minimally processed ingredients from consciously and sustainably sourced plant-based ingredients products. Their mission is to nourish the whole body with whole organic foods while helping the environment at the same time.
What is Mary's Gone Crackers
Carla King has a long history in marketing, starting her marketing career in the Bay area collaborating with various pet-based companies, including Nine Lives and Meow Mix. Carla and her husband packed up their things, moved over to Reno, and eventually landed a job through a mutual contact with Mary's Gone Crackers.
Mary's Gone Crackers is a Reno, Nevada-based gluten-free snack company founded by Mary Walden, a psychotherapist diagnosed with Celiac disease. She created the cracker as something to munch on when she went out with friends while they enjoyed the bread brought out at the restaurants they would visit. She shared them with her friends, and they loved them.
Mary went on to begin selling them at her local grocery store, and they were such a big hit she decided to make her crackers on a larger scale. Mary met with her therapist friends and told them of her idea and asked them to help her come up with a name, and thus Mary's Gone Crackers was born.
From there, Mary's Gone Crackers took off. She started with the original line and expanded with new recipes such as the Super Seed line, which was a seedier version, and then added the Real Thin, which isn't truly a thin cracker but is made with a special flour blend instead of a seed base. All of Mary's Gone Crackers products are gluten-free, non-GMO, organic and Carla emphasizes that is the promise of Mary's to the consumer.
What Makes Mary's Gone Crackers Stand Out
Andy dives into what makes Mary's Gone Crackers stand out above the rest. Carla explains the top two things that make Mary's Gone Crackers is that they offer all gluten-free and organic snack foods. "I know some have just come out with an organic line, one of our big competitors has. But we have always been that way and will always be that way. We are very careful in sourcing ingredients and in our packaging. our goal is to focus on the health of the consumers and the health of the planet as we do that."
More people, especially after living through the covid pandemic and having more meals at home, are focused on eating healthier. More people want to focus on foods with ingredients they recognize and are now connecting good physical health and good mental health.
Carla and the team market Mary's Gone Crackers through social media outlets like Instagram and Facebook with tips on what to pair their crackers with and how to enjoy them. Carla believes there is room to grow. They want to be where people want to pick up snacks like Walmart, Kroger, and Amazon. The team is working on an innovative marketing campaign and plans to release new and exciting things coming down the Mary's Gone Crackers pipeline.
If you are interested in trying the healthy organic Mary's Gone Crackers, visit https://www.marysgonecrackers.com to see where you can order and browse the large selection of gluten-free crackers available.
Would you like to be interviewed on The Food and Beverage Leaders Podcast?
We're more than just your trusted logistics and food shippers. We believe every individual has a unique and powerful message. We love to hear from real people. Visit www.bahrtrans.com/podcast to listen to the latest episodes and apply to be on our show. We'd love to talk to you.