Truck Tonnage Jumps 3.7% in May
by Staff, on Jun 30, 2022 11:01:49 AM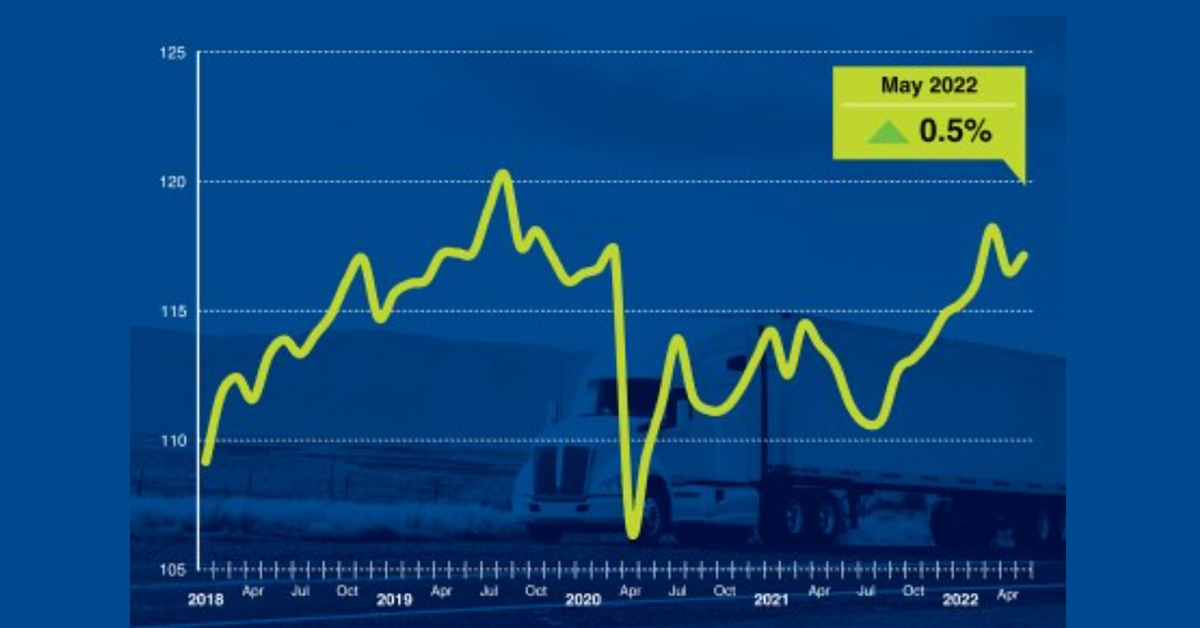 American Trucking Associations (ATA) reported its advanced seasonally adjusted (SA) For-Hire Truck Tonnage Index jumped 3.7% in May compared with year-ago levels, marking the ninth consecutive year-over-year gain and the largest since April 2021.
The ATA For-Hire Truck Tonnage Index equaled 117.1 last month, compared with 113.3 a year ago. The May result also represented a 1.4% gain over 116.5 in April. For purposes of the index 2015=100.
"The transition in the freight market continued in May, with the index hitting the second-highest level since the pandemic started," says ATA Chief Economist Bob Costello. "The traditional spot market has slowed as freight softens, but these contract carriers are backfilling any losses in freight with loads from shippers that are reducing spot market exposure. Essentially the market is transitioning back to pre-pandemic shares of contract versus spot market." Costello regularly speaks at Food Shippers of America (FSA) and is considered one of FSA's most respected guest authorities on the trucking marketplace.
The ATA index is dominated by contract freight, he notes.
Across the first five months of 2022, tonnage is up 2.7% compared with year-ago levels even as the U.S. economy battles inflationary headwinds. Costello noted there were some warning signs for trucking in the May results.
"Overall, economic indicators that are important to trucking slowed in May, including retail sales, housing starts and manufacturing output," he says.
According to ATA, trucking represents 72.5% of tonnage carried by all modes of domestic freight transportation, including manufactured and retail goods. Trucks hauled 10.23 billion tons of freight in 2020, and motor carriers collected $732.3 billion, or 80.4% of total revenue earned by all transport modes.
Source: Transport Topics, Tonnage Jumps 3.7% in May
Like this kind of content? Subscribe to our "Food For Thought" eNewsletter!

Now more than ever, professionals consume info on the go. Distributed twice monthly, our "Food For Thought" e-newsletter allows readers to stay informed about timely and relevant industry topics and FSA news whether they're in the office or on the road. Topics range from capacity, rates and supply chain disruption to multimodal transportation strategy, leveraging technology, and talent management and retention. Learn More