Truck Tonnage Rises Nearly 4% in March
by Staff, on Apr 25, 2022 4:38:48 PM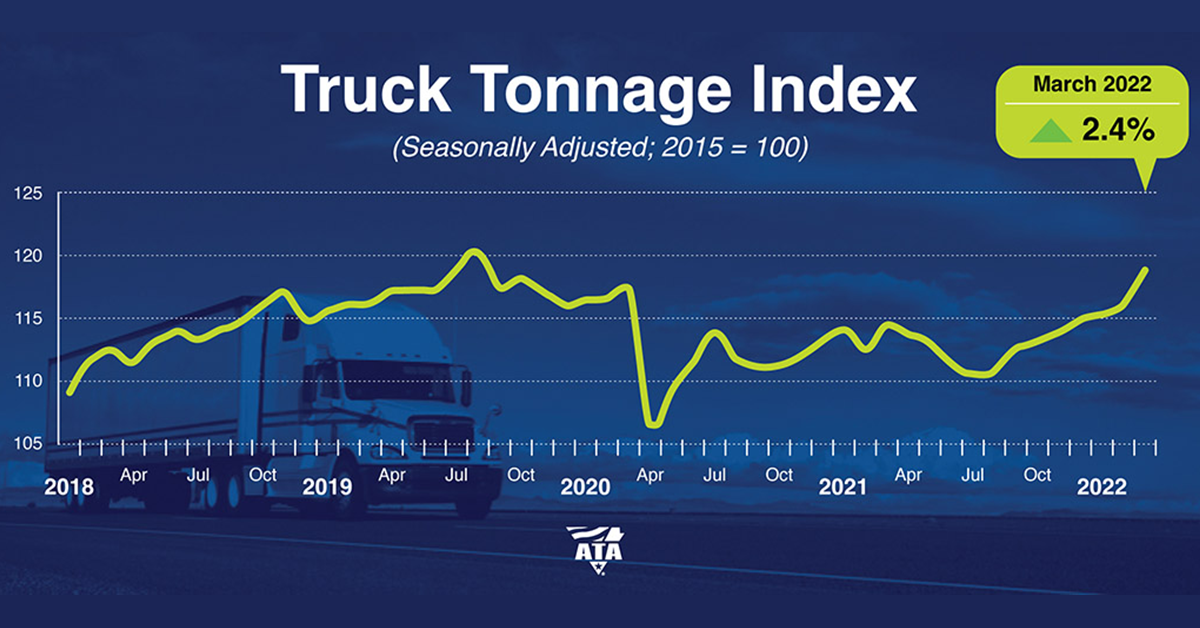 Contract freight was solid in March 2022 and demonstrated the largest sequential gain since May 2020.
March truck tonnage rose 3.8% compared with levels at this same time in 2021, and also reflected a first-quarter gain over the same period last year, according to the American Trucking Associations.
The ATA For-Hire Truck Tonnage Index for last month reached 118.8, compared with 106.8 in March 2021. Year-to-date, tonnage is up 2.6% compared with Q1 2021, reported the ATA. On a month-to-month basis, the index was 2.4% higher than the 116.1 recorded in February. The index equaled 100 in 2015.
Many food shippers closely monitor ATA's For-Hire Truck Tonnage Index because it's an indicator of for-hire freight capacity availability (with minimal amounts of spot market shipments factored in).
ATA Chief Economist Bob Costello noted that the March result marked the seventh straight month of annual gains and was the largest across that stretch. Costello regularly speaks at Food Shippers of America (FSA) and is considered one of FSA's most respected authorities on the trucking marketplace.
"It is important to note that ATA's for-hire tonnage data is dominated by contract freight, with minimal amounts of spot market loads," Costello says. "And, clearly, contract freight was solid in March, witnessing the largest sequential gain since May 2020. March was also the eighth straight month-to-month improvement, with a total increase of 7.4% over that period."
Costello suggests that tonnage could have been higher last month if there were more drivers available to haul commercial freight. In 2021 Costello said the trucking industry needed at least 80,000 new drivers to keep pace with capacity needs, especially in the over-the-road sector of the trucking industry.
"During the first quarter, the index rose 2.4% from the final quarter of 2021," he says. "While there might be some recent softness in the spot market, for-hire contract freight tonnage remains solid and is only limited by lack of capacity — both drivers and equipment — at contract fleets."
Trucking serves as a barometer of the U.S. economy, representing 72.5% of tonnage carried by all modes of domestic freight transportation, including manufactured and retail goods, according to ATA. Trucks hauled 10.23 billion tons of freight in 2020. Motor carriers collected $732.3 billion, or 80.4%, of total revenue earned by all transport modes.
Source: Transport Topics, Index 3.8% Above March 2021
Like this kind of content? Subscribe to our "Food For Thought" eNewsletter!

Now more than ever, professionals consume info on the go. Distributed twice monthly, our "Food For Thought" e-newsletter allows readers to stay informed about timely and relevant industry topics and FSA news whether they're in the office or on the road. Topics range from capacity, rates and supply chain disruption to multimodal transportation strategy, leveraging technology, and talent management and retention. Learn More