Food Shipper Round-Up: 2022 Top Stories
by Staff, on Dec 22, 2022 5:36:58 PM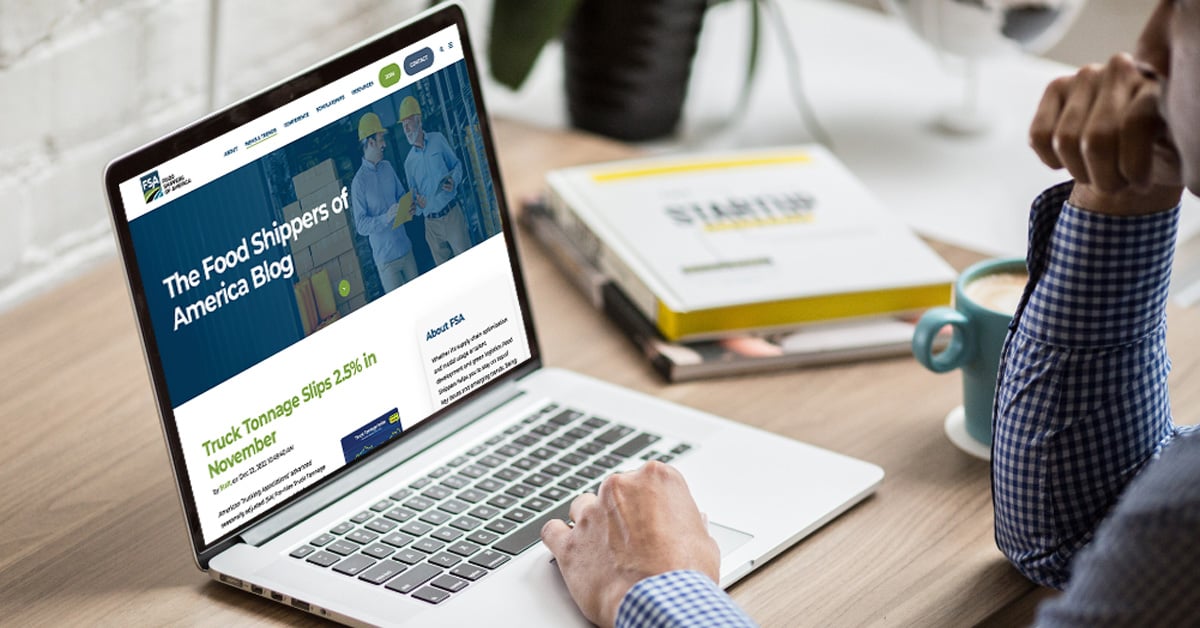 Food manufacturers, retailers and distributors kept a close eye on supply chain disruptions, a volatile freight economy, and dramatic shifts in customer demand. Food Shippers of America (FSA) reported on many of these emerging trends and developments. We've put together this round-up of the most-popular articles and shipper case studies highlighted in 2022.
Economic Forces Causing Major Challenges
There are a number of concerns food shippers are focused on when it comes to the freight economy, and consumer supply and demand.
Inflation continues to be a major concern. In fact, the Producer Price Index (PPI), a measure by the U.S. Bureau of Labor Statistics of what companies get for their products in the pipeline, increased 0.3% for the month and 7.4% from a year ago – the slowest 12-month pace since May 2021. A 38% surge in wholesale vegetable prices helped push the food index up by 3.3%, offsetting an identical 3.3% decline in energy costs.
Market assessment: Share of food tonnage by mode. The food product tonnage dipped significantly in the spring of 2020 at the immediate start of the pandemic, but tonnage quickly came back and has remained strong. Food product tonnage started to stabilize but it's still operating at a significantly high level.
Truckload spot rate index half-way through the year. In the spring this index bounced as expected, along with benefits from seasonal produce, beverage, and summer goods demand. Rates remained well below levels from earlier in the year, reflecting improved labor dynamics (drivers, dockworkers), gradual easing of supply-chain constraints, and likely some moderation in goods spending from recent levels.
Food Shipper Best Practices: The Good, the Bad, the Ugly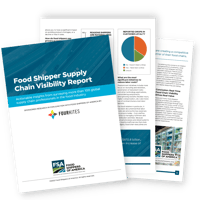 Many food shippers such as Amazon looked at ways to tighten their supply chain to be more nimble, efficient, and quick. FSA also teamed with supply chain visibility company FourKites to survey 115+ food chain industry leaders to identify their most pressing challenges, and the impact of ongoing economic, geopolitical and supply chain disruptions. Learn more about this new research, which reveals challenges, trends shaping food and beverage supply chains.
Amazon launches same-day delivery for GNC and other food retailers. The e-commerce giant is expanding its Prime benefits and services to other food retailers with same-day delivery for food customers such as GNC as well as other shippers, the e-commerce giant announced. Expanding Amazon's same-day delivery service to include other brands is a way to offer Amazon customers greater selection, at faster speeds
Schnucks Markets, DoorDash expand partnership to streamline delivery. Schnucks and DoorDash expanded their prepared food delivery partnership to target faster delivery times, with orders arriving in as little as 30 minutes, according to the company. After initially launching a partnership with DoorDash in 2021 at five store locations in the St. Louis area, Schnucks announced the expansion to include 25 of the Midwestern supermarket chain's locations in Missouri, Illinois and Indiana. Orders can be placed through either the Schnucks Rewards or DoorDash app for items including rotisserie chickens and sandwiches.
Dollar General announces plans for three new DCs. This discount retailer announced plans to build three new DCs in North Little Rock, Arkansas; Aurora, Colorado and Salem, Oregon. Each state-of-the-art facility will also support the company's growing DG Private Fleet presence. Dollar General includes a significant amount of food and beverage products as part of its merchandise offering.
United Natural Foods and Automation. This major grocery wholesaler plans to boost efficiency across its DC network to strengthen its finances and spur growth, according to UNFI company officials.
McCormick & Company. The manufacturer of spices and seasoning mixes said persistent supply chain challenges and inflation are significantly impacting its business, ultimately prompting the company to trim its financial guidance in 2022 for the second time. During Q3, supply chain challenges continued, and supply recovery of certain constrained materials has taken longer than expected. As with other food companies, McCormick has been heavily focused on managing inventory levels and eliminating inefficiencies in its supply chain.
Campbell Soup Company improves supply after months of constraints. CPG companies like Campbell have grappled with volatile operating conditions this year, including a tight labor market and soaring inflation. However, after months of material and ingredients shortages Campbell recently experienced significant improvement in its supply.
Leveraging Technology and Taking Advantage of E-Commerce
Many food shippers are turning to technology and e-commerce innovations and partnerships to elevate their capabilities and ability to serve their markets. For example, Kraft-Heinz and Microsoft joined forces to accelerate supply chain innovation. This involves a multiyear cloud and AI agreement to focus on joint innovations across Kraft Heinz operations and product portfolio, representing one of the company's largest technology investments to date.
Aldi tests Ecommerce platform to save its customers time and money. To that end, Aldi is developing an online grocery platform that will provide pick-up and delivery service in as little as an hour across the supermarket chain of 2,100 stores in 38 states.
Because of the significant increase in food shippers interest in tapping into new technologies and partnerships, Food Chain Digest (the official magazine of Food Shippers of America) announced its first annual 2022 Top Food Chain Technology list.
Like this kind of content? Subscribe to our "Food For Thought" eNewsletter!

Now more than ever, professionals consume info on the go. Distributed twice monthly, our "Food For Thought" e-newsletter allows readers to stay informed about timely and relevant industry topics and FSA news whether they're in the office or on the road. Topics range from capacity, rates and supply chain disruption to multimodal transportation strategy, leveraging technology, and talent management and retention. Learn More